GOP Rep. Berates National Parks Director for Favoring 'Pot-Smoking' Occupiers Over 'Veterans'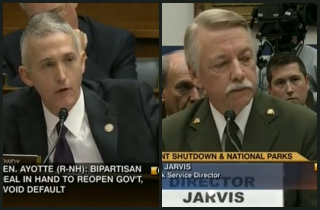 During a prescheduled House hearing Wednesday morning, Rep. Trey Gowdy (R-SC) spent several minutes berating National Parks Service director Jonathan Jarvis over the closing of several Washington, D.C. monuments during the government shutdown.
Contrasting the parks service's decision to allow in 2011 the Occupy Wall Street movement a one-hundred-day-long encampment in D.C.'s McPherson Square with the turning away of visitors to the National Mall this October, Gowdy scolded Jarvis for favoring the "pot-smoking" Occupiers over the "war veterans" who "helped build" the monuments.
The South Carolinian lawmaker repeatedly pressed Jarvis to cite a regulation for why he'd erected barricades and turned away veterans from war monuments on the first day of shutdown.
The parks director explained: "On the very first day of the closure, I implemented a closure order for all 401 national parks in compliance with the Anti-Deficiency Act. And immediately, that day, also included, as a part of that order, that First Amendment activities would be permitted on the National Mall."
But Gowdy was unconvinced. "Do you consider it First Amendment activity to walk to a monument that you helped build, or is it only just smoking pot at McPherson Square?" he asked with an accusatory tone.
"We are content-neutral on First Amendment and on the National Mall," Jarvis responded.
"That wasn't my question," Gowdy shot back. "Do you consider it to be an exercise of your First Amendment rights to walk to a monument that you helped build?"
It went on from there. Watch below, via C-SPAN3:
[h/t
TPM
]
— —
>> Follow Andrew Kirell (@AndrewKirell) on Twitter
Have a tip we should know? [email protected]