GOP Rep. Duncan Tears Into Clinton, Accuses Her Of 'Malpractice' For Allowing Consulate To Be 'Death Trap'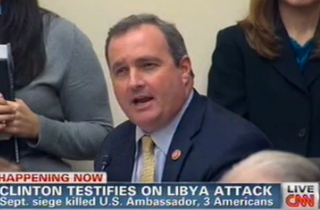 During the House Foreign Affairs Committee hearing on the Benghazi attacks, Rep. Jeff Duncan (R-SC) scolded Secretary of State Hillary Clinton for her comments during this morning's Senate hearing and accused her of "national security malpractice" for "misleading" the public in the wake of the deadly assault.
"Americans are frustrated," Duncan began his allotted time. "They are frustrated over the handling of Benghazi, what happened when four Americans died there. They are frustrated and sometimes they are down right angry about being what they think about being misled about what really happened there, a protest over a video not just for a couple of weeks but weeks on end."
He continued on to lambast the Secretary for her Wednesday morning remarks before the Senate: "[Americans] are frustrated when they see comments from you, 'What difference does it make?' I'll tell you what difference it makes. When Americans think they were misled about something for political reasons."
He continued:
"In the hearing this morning you mentioned that we were clear-eyed about the threats and dangers as they were developed in eastern Libya. Madam Secretary, if you were really clear-eyed, in your words, about the threat to our special mission in Benghazi, then you should have known about Chris Stevens' memo of 16 August that said our consulate could not be defended from a coordinated attack. The question Americans have is: did he expect an attack? If you were clear-eyed, why did your department reject and request, I believe on 7 June, for 16 additional security agents that would have been funded by D.O.D., not a State expenditure. If you were clear-eyed, shouldn't you have known that there was no Libyan government? […] If you were clear-eyed, were you clear-eyed about al Qaeda's displeasure with who we seem to be supporting during the summer elections? If you were clear-eyed, shouldn't you have known that al Qaeda roamed freely? There were al Qaeda flags not just at the protest, they were flying all over Benghazi. If you were clear-eyed, were you clear-eyed when the Brits left Benghazi because they had the attack? Why did four Americans die?"
Duncan went on to note that "there was a request made for more security" at the consulate and it was denied on June 7th. "And so Madam Secretary, you let the consulate become a death trap and that's national security malpractice," the congressman scolded Clinton.
"This was gross negligence. At what point in time can our administration and government fire someone whose gross negligence left four Americans dead in Benghazi? What does the word responsibility mean to you, Madam Secretary?" he finally asked.
"I think i've made that very clear, congressman," Clinton responded, before adding that she has made an effort to be very transparent and could have easily said "good-bye" to a notion of declassifying the Accountability Review Board. "I have great confidence that the Accountability Review Board did the job they were asked to do, made the recommendations that they thought were based on evidence, not on emotion," she pointedly said.
"There was a lot of evidence that led up to the situation," Duncan interrupted, before telling Clinton that despite her promises of transparency, the department has not provided call logs between the command post and operating center from the night of the attacks.
Clinton fired back that her responsibility is "to do everything I can" to get to the truth on the matter. "Going back to your first point and about the concerns of people you represented have expressed about statements that were made," Clinton added, "I would refer you both to the unclassified version of the ARB where, after months of research and talking to more than 100 witnesses, the picture is still very complicated about what happened that night."
"It was a terrorist motivation," Duncan inserted before his time ran out. "It's pretty clear what it was."
Watch below, via CNN:
— —
>> Follow Andrew Kirell (@AndrewKirell) on Twitter
Have a tip we should know? tips@mediaite.com