Guest Tries to Stop Live Broadcast from Speculating on Sydney Hostage Crisis, Fails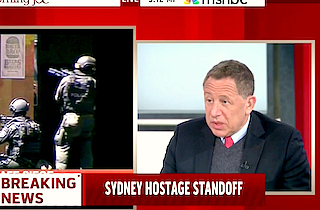 Morning Joe wasted no time "broadening out to 20,000 feet" on the hostage crisis in Sydney, which immediately led to statements like, "what we're beginning to see is unfolding of the new era of terrorism" and "this is Boston Marathon on steroids."
Those are some pronouncements given that we don't know much of anything about the actual situation. (See this Sydney Morning Herald roundup of myths already being perpetuated and debunked.) Real-time crises like the one in Sydney notoriously cause members of media outlets to get ahead of themselves on even the most basic units of information, let alone the long-range geopolitical contexts and consequences.
Foreign Policy's David Rothkop tried to remind them of this:
"I do think we need to take a step back. We don't know who this is and what their motivation is. We know that one guy has gone into a small cafe and taken over a small group of people and the world media has stopped and is watching, and that's how you get the leverage from the lone wolf acting out there and having a global effect. I think we have to be careful of responding to the threat posed by one guy acting alone in a small cafe and letting it infuse us with terror that's the objective of attacks like this."
In other words, let's wait and see who this guy is and what he's about before we hand him MSNBC's megaphone. Alas, only a few minutes later host Joe Scarborough would link the Sydney hostage situation to a beheading in Oklahoma several months ago.
Rothkop tried, but as a general rule members of the media should refrain from throwing around prognostications on "the unfolding of the new era of terrorism" until at least the number of hostages are known.
Watch the video below, via MSNBC:
[Image via screengrab]
——
>> Follow Evan McMurry (@evanmcmurry) on Twitter
Have a tip we should know? tips@mediaite.com