Haley Barbour On IRS, Benghazi Scandals: White House Is 'Going To Have To' Appoint A Special Prosecutor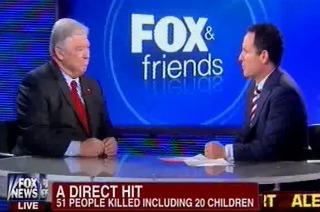 Former Mississippi Gov. Haley Barbour appeared on Fox & Friends on Tuesday to discuss his state's response to the natural disasters that regularly strike the Gulf Coast and how that experience can aid the citizens of Oklahoma who are reeling from a devastating tornado. The conversation quickly turned to the unfolding scandals in Washington. Barbour said that President Barack Obama's administration should appoint a special prosecutor to restore the public confidence in their ability to lead.

Amid a discussion of the tragic events in Oklahoma yesterday, the conversation shifted to the investigations ongoing into the scandals surrounding the government's response to the Benghazi attack and the revelation that the Internal Revenue Service had singled out conservative groups for undue scrutiny.
Asked about the IRS scandal first, Barbour called it "a story that keeps changing."
RELATED: MSNBC Speculates: Bush Appointee In IRS Targeted Tea Party Because They Reflected Badly On GOP
"We're talking about the IRS persecuting people for being politically active," Barbour continued. "At least in Nixon's days you didn't get on the enemies list by calling yourself a patriot."
Brian Kilmeade turned to Benghazi and asked Barbour if he agreed with Senior Advisor to the President for Strategy and Communications Dan Pfeiffer who said over the weekend that Obama's whereabouts on the night of the attack were "irrelevant."
"I don't think the American people think it's irrelevant," Barbour reacted. "I just can't imagine a President of the United States saying, 'It's nobody's business where I was when there was a big tragedy."
Barbour added that he thinks the White House needs to appoint a special prosecutor to get to the bottom of the series of unfolding scandals. "Ultimately, they're going to have – in the IRS deal at least – an independent prosecutor," he said. "The Administration would do itself a favor to get an independent view so that people believe they've gotten to the bottom of it."
Watch the clip below via Fox News Channel:
> >Follow Noah Rothman (@NoahCRothman) on Twitter
Have a tip we should know? [email protected]