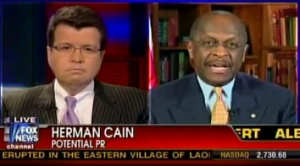 Potential Republican candidate for President Herman Cain wasted no time attempting to clarify his earlier statement regarding Muslims not being allowed in his administration. Appearing with Neil Cavuto, Cain backpedaled slightly from his prior position, but more eagerly stressed that "being politically correct isn't something I'm going to spend a whole lot of my time worrying about."
Cain admits he did say the controversial comments, yet hints that the reporter left out some potentially exculpatory details:
"The reporter didn't tell you this, I would have to have people totally committed to the Declaration of Independence and the Constitution of this United States. And many of the Muslims – they are not totally dedicated to this country, they are not dedicated to our Constitution. Many of them are trying to force Sharia law on the people of this country."
It's hard to tell what is stranger, that it seems Cain is digging himself into a deeper hole or that he somehow thought the statement that Muslims are not dedicated to this country would put his prior statement into a reasonable context? But don't worry, he's not done digging. Cain also argues he would prefer not having Muslims on his cabinet because "I don't have time to be watching someone on my administration if they're not totally committed . . . to the laws of this country." And finally Cain says, "so far I have not come across or I don't have acquaintances with people who have professed the Muslim religion that are on the list of people that I would consider" for a position. As for the promised clarification, after Cavuto pressed further, Cain finally did admit that he is "not saying never, never, never" would he allow someone of Muslim faith to serve in his administration.
Watch the clip from Fox News below:

Have a tip we should know? tips@mediaite.com