In Warning To Tea Party, James Hoffa Says: 'Let's Take These Sons Of Bitches Out'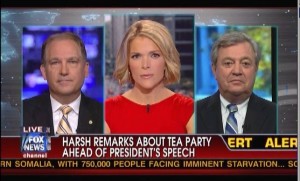 Teamster head James Hoffa declared war with the Tea Party today while warming the stage for President Barack Obama in Detroit, Michigan. As a Labor Day special, he pledged the support of the Unions to Obama, promising that "one thing about working people is, we like a good fight," and that they "are ready to march" against the Tea Party, which he feels has taken up a charge against workers. Calling the Detroit crowd into battle, he cried, "Let's take these sons of bitches out and give America back!" It's hard to imagine that was the lead-up Obama was expecting. Spirited and perhaps inciting, did he outdo himself?
Speaking to the Detroit crowd, the union head called for war with the Tea Party, saying:
"We gotta keep an eye on the battle we face: the war on workers. And you see it everywhere, it is the Tea Party. And you know, there is only one way to beat and win that war. The one thing about working people is we like a good fight. And you know what? They got a war, and they got a war with us. There is only going to be one winner and it's going to be us."
Megyn Kelly had Brad Blakeman, a former member of George W. Bush's senior staff, and Dick Harpootlian, South Carolina Democratic Party Chair with her on Fox News to discuss Hoffa's speech. Blakeman voiced concern that Hoffa's remarks were demonstrative of the Union's "thuggery." They were the sort "you would expect out of Tony Soprano," he said, worrying that it was the kind of warning that "usually means somebody's legs are going to get broken and somebody is going to disappear." Harpootlian, on the other hand, felt that Hoffa's remarks were no more inciting of violence than the Tea Party's.
Hoffa's violent rhetoric is the sort that Sarah Palin was charged with in the days following Arizona Congresswoman Gabrielle Gifford's shooting earlier this year, a sort of rhetoric that all sides should be weary of no matter who started it.
Update: Later in the day, Fox News aired a longer clip of the comments to add necessary context to the comments.
Watch the Fox debate below:

Have a tip we should know? tips@mediaite.com