Related? FBI Issues Small Aircraft Warning On Day Of Mysterious Marine One Grounding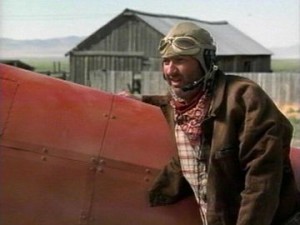 To quote Rod Serling, submitted for your approval: Friday afternoon, presidential helicopter Marine One is forced to land in an "undisclosed location" en route to Camp David due to bad weather that no one can see. As President Obama and daughter Sasha are transferred to a motorcade for the remainder of the trip, a civilian aircraft is intercepted by F-15 fighters, and diverted to a West Virginia airfield. Also on Friday, the FBI issues a warning about the possibility that al Qaeda may use small aircraft in a terror attack.

According to the AP, the FBI and Homeland Security issued the warning, while being careful to say that they have no information about a current, specific threat:
According to a five-page law enforcement bulletin issued Friday, as recently as early this year, al-Qaida was considering ways to attack airplanes.

The alert, issued ahead of the summer's last busy travel weekend, said terrorists have considered renting private planes and loading them with explosives.

"Al-Qaida and its affiliates have maintained an interest in obtaining aviation training, particularly on small aircraft, and in recruiting Western individuals for training in Europe or the United States, although we do not have current, credible information or intelligence of an imminent attack being planned," according to the bulletin obtained by The Associated Press.
The bulletin could explain the forced landing of Marine One Friday, which Press Secretary Jay Carney chalked up to a "bad weather call," despite reports of clear skies along the 30-minute route. Such a precaution would not be unusual, and without a compelling reason to do so, the Secret Service is loath to disclose security procedures.
Small aircraft intercepts are a fairly frequent occurrence (I can think of a few off the top of my head), and that fact, plus the awareness demonstrated by this bulletin, ought to serve as something of a deterrent to this kind of plot. As for recruiting a sympathetic westerner, based on their track record with terror noobs, their guy is as likely to set himself on fire and hit the "eject" button by accident as he is to get shot down by US fighter jets. They'd be better off recruiting the Randy Quaid character from Independence Day. Still, with the 10th anniversary of 9/11 approaching, you can't be too careful.
(h/t)
Have a tip we should know? tips@mediaite.com