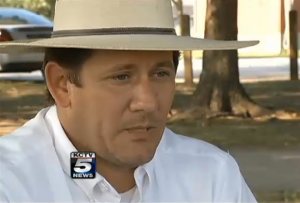 Remember two weeks ago, when somehow the big political story captivating the nation was a rodeo clown mocking President Obama? Well, as Tuffy Gessling, the clown in question, explains it, he wasn't "hating on anyone," just doing his normal crazy schtick; it just happened to involve an Obama mask. Gessling gave his first on-camera interview to KCTV to clear the air and reveal that he's received several death threats since the incident, adding that he has no personal animosity towards the president and would be "honored to shake his hand."
Gessling explained, "I've had one lady spit in my face, called me a dirty name, spit in my face and walked off."
He's received five death threats, including someone who told him they'd burn his house down. The overwhelmingly negative reaction is what inspired Gessling to speak out in the first place, saying he meant it to be humorous, not hateful, and pointing out these same kind of stunts happened under Clinton and Bush. He criticized the overblown media coverage of his stunt, wondering why everyone was so fired up about him instead of other, more pressing issues. (I seem to recall it was a slow news week).
Gessling admitted, "If President Obama turns out, I would be honored to shake his hand."
A lot of pundits eagerly jumped to conclusions about Gessling before he spoke out, with rhetoric ranging from accusations that the clown is the GOP's base to an MSNBC panel describing his act as blatant "minstrelstry," and he was even personally rebuked by a White House spokesman.
Thank God summer's almost over.
Watch the video below, via KCTV:
h/t NPR
—–
Follow Josh Feldman on Twitter: @feldmaniac
Have a tip we should know? tips@mediaite.com
Josh Feldman - Senior Editor