Ingraham: Teacher That Replaced 'God Bless The U.S.A.' With Bieber Represents 'The Angry Left'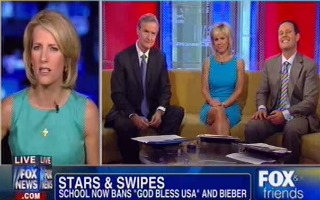 Conservative radio host Laura Ingraham appeared on Fox & Friends on Tuesday to weigh in on the controversy surrounding a New York City principal who refused to allow her students to sing Lee Greenwood song "God Bless The USA" and replaced it with a Justin Bieber song. Ingraham said that the principal represents the "angry left in the United States."

RELATED: View Guest-Host Gretchen Carlson Offended By Teacher Swapping 'God Bless The U.S.A.' For Bieber's 'Baby'
Ingraham was asked for her thoughts on the controversy surrounding a New York City teacher who insisted her students not sing a Lee Greenwood song and replace it with Justin Bieber's "Baby." That teacher was reprimanded by the New York City school system and now both songs are banned.
"This is the kind of thing that drives people from both political parties nuts," said Ingraham. "Maybe we could have done God bless Jehovah – would that have made this principle happy?"
"This principal represents the angry left in the United States, really," Ingraham continued. "She was up there saying a short time ago, 'well, it used to be that the principals of this school system were all white and Jewish.' This is, basically, a new game in town or there are a lot more like me coming. Something vaguely racist."
"She is under investigation for saying that," interjected co-host Gretchen Carlson.
Ingraham went on to say that this episode is symptomatic of the abandonment of the teaching of patriotism in schools. She said that "flag day" in elementary schools used to be about the American flag but now it is about every nation's flag.
"The American flag is somehow offensive to Americans? I don't get it," said Carlson.
Watch the segment below via Fox News Channel:
Follow Noah Rothman on Twitter
Have a tip we should know? tips@mediaite.com