Yes. It is.
85-year-old Fargo, N.D., resident Douglas Legler wanted to go out with a laugh, and his wish was granted. While everyone else writes hagiographic biographies for their obituaries, listing every major accomplishment in detailed fashion, Legler insisted his eventual obit be as succinct as humanly possible.
"He said over and over, when I die I want my obituary to just say 'Doug Died,'" Legler's daughter, Janet Stoll, told WDAZ. "(Other people's obituaries) would say 'he was the president of this, a director of this' and Dad would say, 'What, couldn't they hold down a job?'"
And when Legler passed away this week, here's what ran on The Forum of Fargo‑Moorhead's obituary page: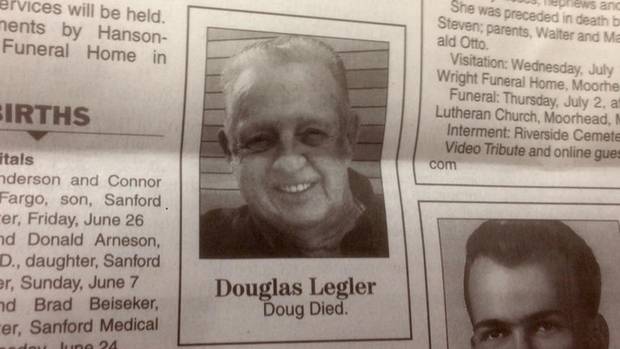 "He was very lighthearted and had a great sense of humor," Stoll said of her father and his last laugh. "I'm sure he's laughing up there now."
Bravo.
For more about Legler's illustrious life, see here. And watch a WDAY report on him, below:
— —
>> Follow Andrew Kirell (@AndrewKirell) on Twitter
Have a tip we should know? tips@mediaite.com