It's True: CNN's Zucker Personally Books Trump (and Hillary), Doles Out to Favorite Hosts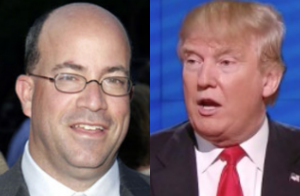 In an interview with Politico's Glenn Thrush, MSNBC host Joe Scarborough accused CNN President Jeff Zucker of "turn(ing) their entire broadcast center over to" Donald Trump by personally calling the presumptive Republican nominee to book him on CNN's programs. In the context of attempting to confirm Scarborough's charge, Mediaite has learned that Zucker does, indeed, personally handle CNN's Trump bookings, as well as those for most other candidates and certain high-profile guests, then doles out the bookings to his favorite hosts.
A source at CNN with direct knowledge tells us that Zucker "personally books all the candidates and big gets, and doles them out to whichever anchor he wants," adding that individual shows' producers "are barred from calling our own contacts personally" to book guests like Clinton and Trump.
According to this source, even if a candidate wants to appear on a different show, they are almost always steered to either the network's Sunday tentpole State of the Union with Jake Tapper, their morning show New Day, or the Anderson Cooper-hosted AC360. "He wants to prop up the Sunday show and the morning show and the 8 pm show," the source says.
A network executive reaching out to candidates in order to lend their bookers a hand is one thing, since they obviously have the clout to overcome obstacles to access, but usurping them entirely seems to be what's rankling some at CNN.
It would also seem, then, that Joe Scarborough is only half-right. Jeff Zucker does play favorites, just not with Donald Trump.
We reached out to CNN for comment and will update accordingly.
Have a tip we should know? tips@mediaite.com