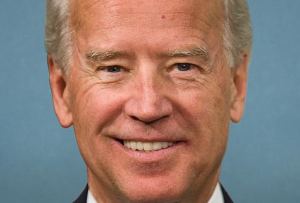 Vice President Joe Biden has long been a vocal advocate for better handling of domestic abuse and sexual assault cases and he's always focused on getting others to step up, too. An example of his advocacy is the #ItsOnUs campaign, which seeks to empower people to stop sexual assault, especially on college campuses.
Following the furor over the lenient sentencing of former Stanford student Brock Turner by Judge Aaron Persky, Biden has written an open letter to the woman Turner attacked. The victim gave permission to Buzzfeed News to post the 12-page impact statement that she read in court, and now, Buzzfeed is printing Biden's letter, as well. Biden's statement joins Turner's own accountability-shirking letter as well as a letter written by his father, which has been criticized as being "tone deaf" for its insistence — even after the trial during which a jury found his son guilty of three felony counts of assault — that Turner is being punished for "20 minutes of action." Essentially, everyone has an opinion on this.
Biden's opinion is important, of course, because he is the Vice President. He used his platform to further a worthy cause when he gave his letter to Buzzfeed.
He wrote that he was "in awe" of her courage, called her a warrior "with a solid steel spine," and expressed that he is "filled with furious anger—both that this happened to [her] and that our culture is still so broken that [she was] ever put in the position of defending [her] own worth."
He addressed the laborious process of rehashing her story and answering the slanted questioned thrown at her from the defense's legal team, just as she did in her own statement.
Here is a sample of the letter, which is clearly written with thinly-veiled rage:
I do not know your name—but I know that a lot of people failed you that terrible January night and in the months that followed.

Anyone at that party who saw that you were incapacitated yet looked the other way and did not offer assistance. Anyone who dismissed what happened to you as "just another crazy night." Anyone who asked "what did you expect would happen when you drank that much?" or thought you must have brought it on yourself.

You were failed by a culture on our college campuses where one in five women is sexually assaulted—year after year after year. A culture that promotes passivity. That encourages young men and women on campuses to simply turn a blind eye.

The statistics on college sexual assault haven't gone down in the past two decades. It's obscene, and it's a failure that lies at all our feet.

And you were failed by anyone who dared to question this one clear and simple truth: Sex without consent is rape. Period. It is a crime.
Click over to Buzzfeed to read the full letter to a woman who will remain anonymous by choice. She has decided not to reveal her name because she thinks it is more powerful when people like Biden, Nancy Grace, the panel on Outnumbered, Ashleigh Banfield, and others stand up for her without knowing her. In that way, they stand up for every victim of sexual assault.
"I'm every woman," she said.
[image via screengrab]
For more from Lindsey, follow her on Twitter or Facebook.
Have a tip we should know? tips@mediaite.com