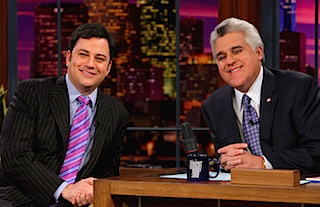 "I like Seth, I like Jimmy. I think Colbert will be really good," former Tonight Show host Jay Leno said of the current crop of late night hosts in a new interview with TV Insider. But he did not have very nice things to say about Jimmy Kimmel.
In contrast to the Late Show's new host Stephen Colbert, who he described as "really clever," "a pretty conservative guy" and "a truly nice guy and decent human being," Leno called out his former rival Kimmel for having a "mean streak":
"The most [important] element you can have in doing a late night show is kindness. Because the show makes you arrogant. I think that's Jimmy Kimmel's problem. I think he's a talented guy, I think he's funny. But he has a mean streak, and it comes across. He does this thing where he takes Halloween candy from kids and the kids cry. What am I missing here? It is funny I guess, but it's mean-based. I think that's why he's not higher in the ratings."
Kimmel does tend to trail NBC's Tonight Show Starring Jimmy Fallon in the ratings, though his ABC show often beat the Late Show with David Letterman in the coveted 18-49 demo. Those Halloween videos, on the other hand, are some of the most-watched late night videos of all time on YouTube, with the original installment reaching more than 54 million views since it premiered in 2011.
Leno's beef with the ABC host dates back to the late night debacle of 2010 when Kimmel publicly took Conan O'Brien's side in the dispute over Tonight Show hosting duties. In January of that year, Kimmel delivered his monologue as Leno, complete with grey wig and fake chin.
"Conan O'Brien today announced that he is leaving NBC," Kimmel said at the top of the monologue.
"He released a statement today that said, 'I won't participate in the destruction of the Tonight Show.' Fortunately though – I will!"
Later, he showed up as a guest on Leno's 10 p.m. show via satellite and proceeded to spend the entire segment going after the host for his treatment of O'Brien. For instance, asked by Leno what the best prank he ever pulled was, Kimmel answered, "I told a guy that 'five years from now, I'm going to give you my show.' And then when the five years came, I gave it to him. And then I took it back almost instantly."
Watch video below, via THR:
[Photo via NBC]
— —
>> Follow Matt Wilstein (@TheMattWilstein) on Twitter
Have a tip we should know? [email protected]