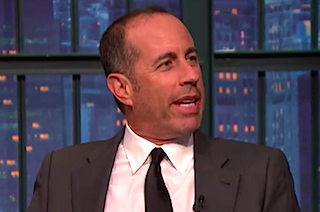 Following his much-talked about comments from last week about college students becoming too politically correct, Jerry Seinfeld elaborated his point during Late Night with Seth Meyers Tuesday night. When Seth Meyers noted that there are more people than ever now who will "let you know you went over the line" in comedy than ever before, Seinfeld agreed.
"And they keep moving the lines in, for no reason," Seinfeld said, citing the uncomfortable feeling he now gets from his audience when he tells his joke about people who scroll through their phone like a "gay French king."
"Are you kidding me?" he asked. "I could imagine a time where people say, 'Well, that's offensive to suggest that a gay person moves their hands in a flourishing motion and you now need to apologize.' I mean, there's a creepy PC thing out there that really bothers me."
The New Yorker editor David Remnick, who was also on the Late Night panel, said there are times when he has had to go television and defend covers — like the one featuring Barack and Michelle Obama sharing "terrorist fist jab" — but said he has never apologized. He added that there was a recent pitch for a cover that played on Vanity Fair's Caitlyn Jenner cover but he decided not to run it because it "just didn't work."
Seinfeld then called out Meyers for refusing to make jokes about Jenner, but the host said he only decided to give her a free pass on that first day when the story broke.
"As far as that cover and that moment, I sort of thought that was a wonderful thing and not the time to make a joke," Meyers explained. "But Caitlyn Jenner can't go around doing whatever she wants the rest of her life thinking she's not going to show up in a monologue."
"Ok, good, I feel better now," Seinfeld said in response.
Watch video below, via NBC:
[Photo via screengrab]
— —
>> Follow Matt Wilstein (@TheMattWilstein) on Twitter
Have a tip we should know? tips@mediaite.com