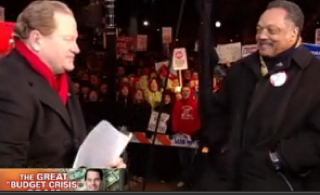 These out-of-left-field (politically as well as figuratively) labor protests in Wisconsin have brought out the weird in cable news. Glenn Beck retreated to his studio to study the rise of the Antichrist; Rachel Maddow retreated to hers to warn viewers of the shocking truth that people may hold different beliefs on the matter. Meanwhile, her colleague Ed Schultz grabbed the first flight over to revel with the union protesters and, amid cheers and chants, interview an old familiar face on the situation– Jesse Jackson.
Schultz, reporting live from a rock concert ground zero of the Wisconsin union protests, couldn't have expressed more pleasure at having the raucous, picketing mass behind him as he explained the tax policies of former Democratic governor and how they compared to current governor Scott Walker's, the crowd cheering wildly at the previous surplus but falling silent at the mention of Walker's three tax cuts.
Special guest Jesse Jackson then joined the fray to much jubilation (and something that sounded suspiciously like a vuvuzela) and praised the protests for "going viral" and embracing the "Egypt spirit" (?). He then sent his congratulations to the Democratic state senators that fled the state and clarified that, to him, "this isn't about money– this is about union-busting."
Schultz also brings up tomorrow's Tea Party-organized rally in favor of the governor's cuts, and noted to Jackson (a South Carolina native) that the crowd would have to contend with tons of "outside influence" from places like Virginia tomorrow. Jackson gave the crowd only one piece of advice: "don't get in a shouting match and become a distraction," to which the crowd replied with a series of exuberant, distracting shouts.
The segment via MSNBC below:

Have a tip we should know? tips@mediaite.com