Joe Rogan Announces Roseanne Bailed on Podcast: She Told Me She Thought Valerie Jarrett Was Jewish
Roseanne Barr bowed out of her scheduled interview on the Joe Rogan Experience Friday and went radio silent on the podcast's host just one day after a now-deleted and bonkers tweetstorm in which she claimed she begged for her show back at ABC and lamented, "they won't stop 'til I die."
On Friday, host Joe Rogan tweeted out that Barr would not be appearing on his podcast and noted, "she's not doing well."
"The Roseanne podcast is not happening today," Rogan wrote. "She's not doing well and doesn't want to travel, and she's gone radio silent on me, so I'm just going to step away. The whole thing has been pretty brutal on her, and I hope she can find some peace."
The Roseanne podcast is not happening today. She's not doing well and doesn't want to travel, and she's gone radio silent on me, so I'm just going to step away. The whole thing has been pretty brutal on her, and I hope she can find some peace.

— Joe Rogan (@joerogan) June 1, 2018
On his podcast Friday (footage of which can be seen above via HLN), Rogan confirmed the interview was off. He also defended Barr's Ambien claims.
"Roseanne is — she's an older lady. She's in her 60s. And you know, she's had some mental problems. And she's drinking and she's taking that stuff to go to sleep," Rogan opined, noting that Barr was drunk at the time the tweets were made.
He also relayed a curious detail Barr reportedly told him about Valerie Jarrett.
"She did not know that that lady was even black," Rogan said, referring to Jarrett. "She thought that lady was Jewish. And she said to me, do you really think that I would make a joke about a black lady and say Planet of the Apes?"
On Thursday night, Barr launched into a now-deleted Tweetstorm (screengrabs below) where she called the controversy and loss of show the most "gawd awful painful thing" and warned "they won't stop til I die. I fear-pray for me."
Barr has not been active on Twitter so far on Friday and has not yet made a public comment about why she did not appear on Rogan's show.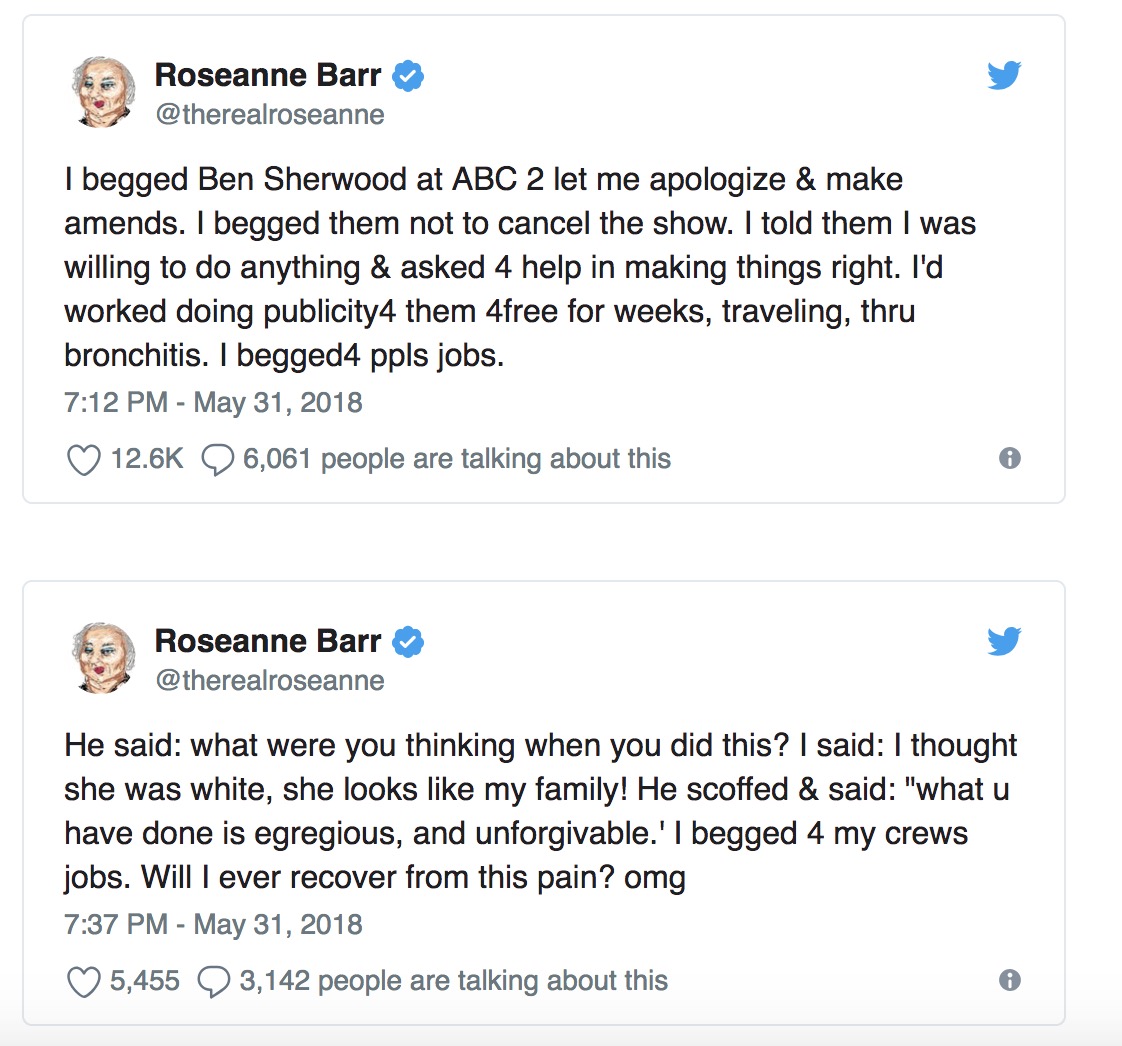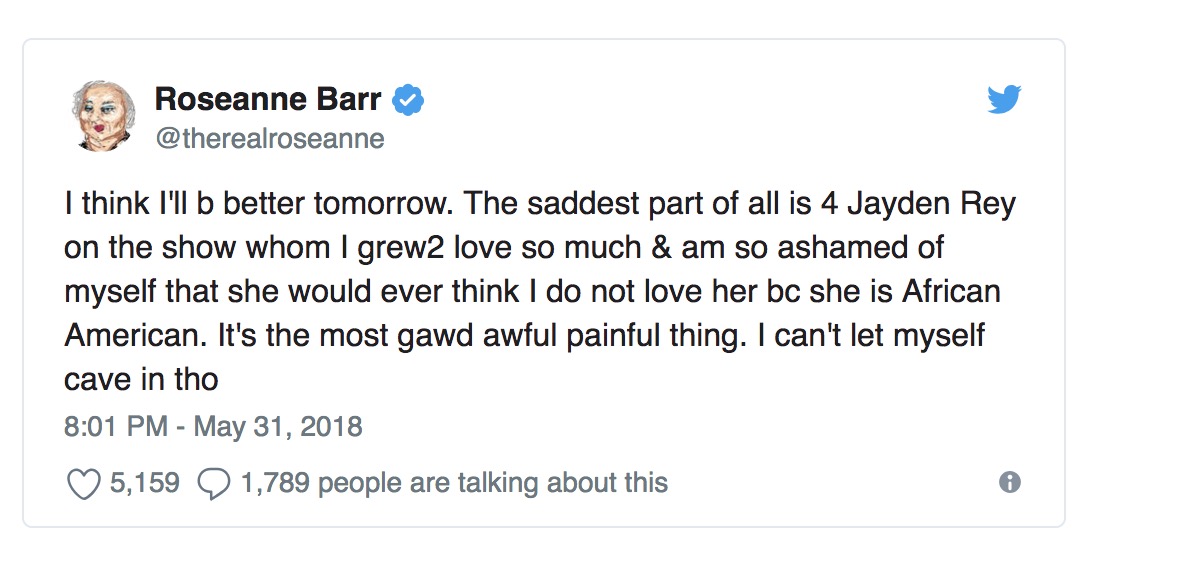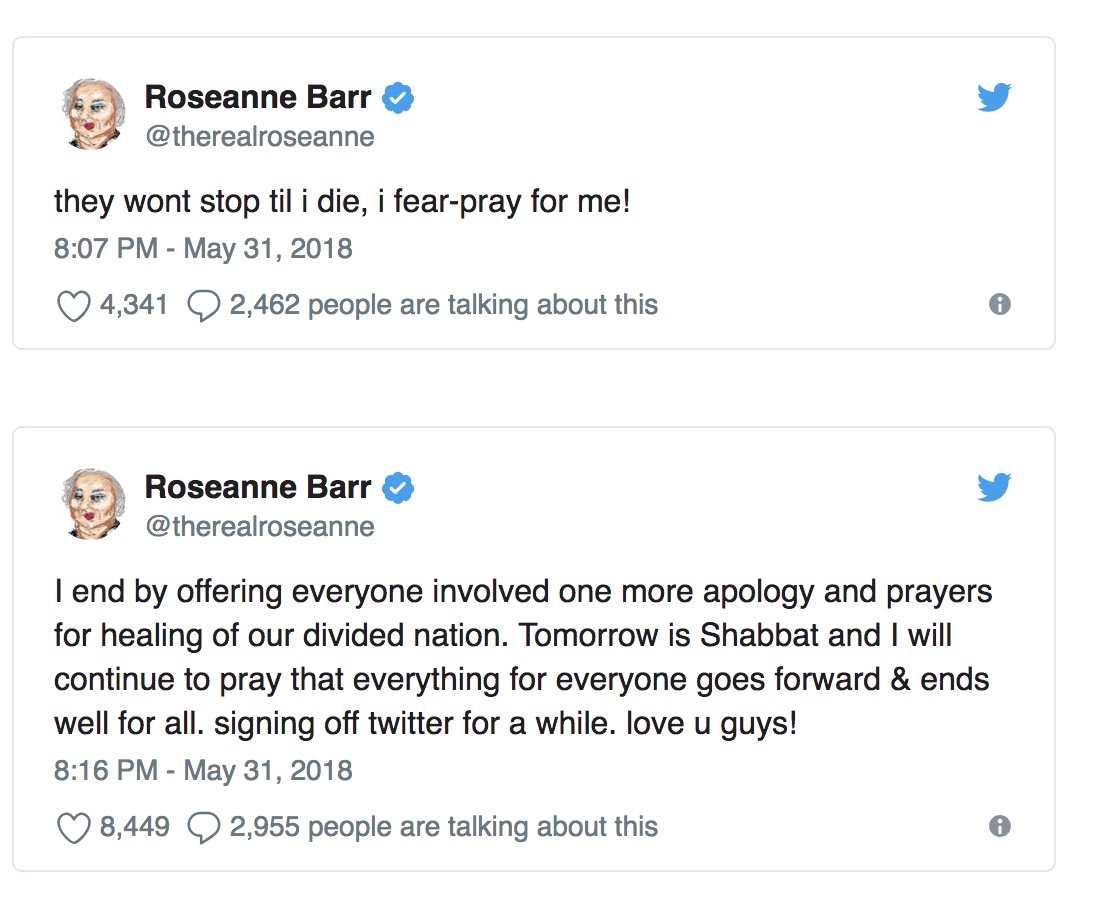 Watch above, via HLN
[Photo via Getty Images]
Have a tip we should know? [email protected]