Joe Scarborough: Sorry, My Fellow Republicans — Hillary's a Very Likable Woman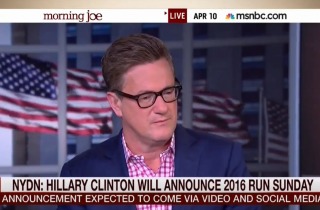 Another day, another instance of Joe Scarborough saying something that completely goes against the general consensus among his fellow Republicans.
On Friday morning's Morning Joe, the former GOP congressman-turned-TV-host said "sorry not sorry" to his conservative colleagues after declaring that Hillary Clinton is actually a likable person "when she doesn't put that campaign helmet on."

Reacting to the news that the former Secretary of State will announce her presidential campaign this coming Sunday, Scarborough relayed to his panelists the times during his own congressional campaign when he encountered the Clintons:
I remember running against the Clintons non-stop when I ran and, you know, I met them and [my colleagues] said, "What was Bill like?" He's Bill, you know. And they said, "Oh, Hillary must be awful." I was like, no, I really like her. They were like, "She's a radical." I said, she's kind of a midwest Methodist. I got bad news for you. Now, I said, she's progressive and all that but she really is, and, every time she doesn't have that campaign helmet on, I'm sorry, she's just — I'm not sorry, my Republican friends — she's extraordinarily likable. But she puts on that gear and she just stiffens up and she can't be who she is.
Scarborough suggested that if she can formally clear up questions about her use of a private server for government emails, and remove that "campaign helmet" he believes hampers her personality, she will be a formidable presidential candidate.
Watch the segment below, via MSNBC:
— —
Have a tip we should know? tips@mediaite.com