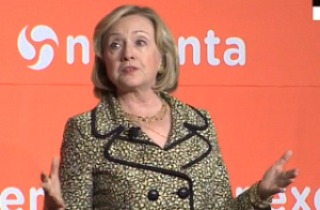 Is Hillary Clinton a relatable yoga mom who plans weddings and tries to get clean-burning cookstoves into the hands of millions of impoverished families across the world? Or was she built by scientists and organizational psychologists in a basement to be the ultimate presidential candidate? Documents recently unearthed by the Wall Street Journal suggest the latter.
This week, the Clinton Library released the paper records of Michael O'Mary, Clinton's speechwriter when she was First Lady, and among the papers was a heavily-edited draft of her responses to a Scottish newspaper's Q&A request. While they declined to answer some relatively frivolous questions ("What is the first thing you would do if all your numbers came up in the Lottery?"), they did agonize over questions that would define Clinton's public persona as a political figure who also happened to be the wife of then-President Bill Clinton.
For instance, the question of "How and where did you meet your husband?", normally a fairly straightforward question, got multiple revisions in the draft:
Copies of several drafts show repeated changes to the story, which appeared to waffle between a variation of these two narratives:

"I met my husband at Yale Law School. We met at the library, where, after I caught him looking at me, I introduced myself to him. Later, he joined me in a long line to register for classes, and we talked and talked. Before we knew it, we had walked all the way to the university art museum, where Bill showed me some of his favorite sculptures."

And:

"I met my husband at Yale Law School. We met at the library where I introduced myself to him. Later, he joined me in a long line to register for classes, and we talked for an hour. When we got to the front of the line, the registrar said, 'Bill, what are you doing here? You already registered?'"
Other edits both added more Hillary-as-Mom elements:
Staffers also struggled with how to answer the question, "What is your greatest ambition?" What appears to be an early draft answered: "To be a responsible and loving mother and wife and to instill values in my daughter that will serve her well as she grows up and has to navigate through a complicated world." Scribbled underneath was another line geared more toward portraying Mrs. Clinton as a political figure: "Second, to live up to the American ideal of citizenship."
As well as Hillary-as-Politically-Ambitious-Modern-Woman elements:
…the answer to "How would you best like to be remembered?" was expanded to portray Mrs. Clinton not just as a supporter of her husband but as a champion of human rights. One draft showed this answer: "For using this rare opportunity to support my President and his vision of where to take our country on the eve of a new century." In what appears to have been a later draft, this was added: "I also hope to use the platform I have to speak out for people on the margins of society, especially women and children, who too often don't have a voice in the political, social, economic and civil life of their countries."
But this edit is simply very Hillary:
In one draft, a reference to Mr. Clinton as "my President" is changed to "my husband."
Anyone getting flashbacks to that Kate McKinnon sketch on Saturday Night Live can join in with us. We'll collectively flash back together.
[Featured image via Shutterstock]
— —
>> Follow Tina Nguyen (@Tina_Nguyen) on Twitter
Have a tip we should know? tips@mediaite.com