Jon Stewart Enjoys The Delicious Irony Of The IRS Under Scrutiny: 'Where's Your Receipts, A*sholes?'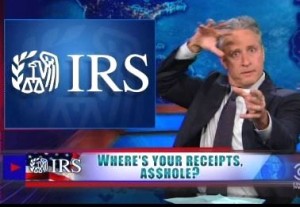 To kick off his final week before leaving The Daily Show for the summer, Jon Stewart had another go at the IRS for the ongoing scandal over the targeting of tea party groups. Stewart expressed mock sympathy for the IRS and indulged in a little schadenfraude, asking "Where's your receipts, assholes?" Stewart wryly remarked, "Sucks to get audited, doesn't it?" and proceeded to mock-audit the IRS for its own ridiculous expenses.
Stewart brought up how former IRS commissioner Douglas Shulman was at the White House over 150 times, remarking that meeting with the president to scheme against his political opponents "should really only take about one meeting, two tops!" However, Stewart did liken President Obama to a mobster who only summoned Shulman to ask, "Did you take care of that thing?"
Stewart continued to turn the tables on the IRS with some devastating commentary on their actions.
"You may have perfectly reasonable explanations for every action that you took, but that doesn't mean we don't need you to go back home and dig through another couple of shoeboxes until we get just that one document that we really need to see before we can be okay with your reasons. Why? Fuck you, that's why."
Stewart slammed the agency for a dance video that cost $1600 ("How the fuck did that cost $1600? Did the guy recording it drop his iPhone three times?") and the $50 million that was spent on a little over two hundred employee conferences. Stewart told the IRS, "I don't care… if you kept the receipts," and gleefully suggested they use TaxMasters to sort out their troubles.
Watch the video below, courtesy of Comedy Central:

—–
Follow Josh Feldman on Twitter: @feldmaniac
Have a tip we should know? tips@mediaite.com
Josh Feldman - Senior Editor