Judge Allows Lawsuit Against Jersey Shore For "Profiting From Showing Fights"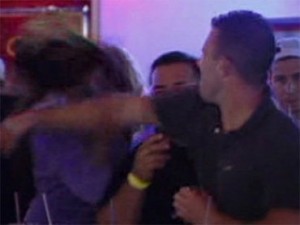 MTV had a huge hit on their hand last year when they took the formula from their reality TV stalwart The Real World, tossed in reductive ethnic stereotypes, and made Jersey Shore. Now, with the second season only a few months away, producers of the show that gleefully turned racial slurs into hilarious catch phrases have been hit with a lawsuit that claims they profited from fights that the cast members started. The Associated Press is now reporting that a New Jersey judge has allowed that suit to move forward. Apparently, if you get a bunch of crazy 20-somethings, stuff them with booze, tell them to get in as much trouble as possible, and then exploit the consequences for financial gain, it might be illegal. Here we just thought it was lame, gross, and yet, strangely compelling.
From the Associated Press:
"A judge in New Jersey has agreed to hear a lawsuit that claims producers of MTV's hit reality show Jersey Shore engaged in a 'criminal enterprise' by profiting from showing fights that cast members deliberately provoked.
Attorney Eugene LaVergne of Long Branch said Monday that he filed the suit in March.
It seeks unspecified monetary damages on behalf of three clients involved in drunken fights with cast member Ronnie Magro.
On Friday, Superior Court Judge Joseph L. Foster denied a motion to dismiss the claim that the defendants' conduct violated New Jersey's racketeering statute."
Ah, "racketeering". That reminds us of when people connected New Jersey with good television. We miss you, Tony.
Anyway, there's no word on how this lawsuit will affect the currently filming season two of Jersey Shore. There have already been reports of at least one fight caused by one of the show's "stars". If the lawsuit succeeds, it's possible that MTV will be forced to cut any fight scenes from the show, just like they cut out Snooki getting punched in the face last year. It's also possible that there are thousands of better things for you to watch on TV. Just thought you should know.
In lighter news, who wants to be The Situation's computer programmer?
Have a tip we should know? tips@mediaite.com