Judge Napolitano To FBN: Rand Paul 'Unequivocally' Did Not Change Position On Drone Strikes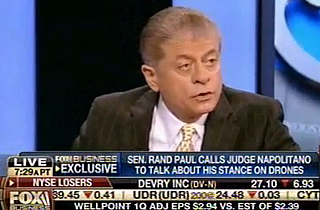 Appearing on Fox Business Network's Varney & Co. this morning, Judge Andrew Napolitano indicated that he has recently spoken with Sen. Rand Paul (R-KY) and believes that the libertarian-leaning lawmaker "unequivocally" did not change his position on drone strikes, despite how many people interpreted his recent remarks on the network.
While speaking with Neil Cavuto on Monday evening, Sen. Paul said that he would have been okay with law enforcement utilizing unmanned drones during the manhunt for Boston bombing suspect Dzhokhar Tsarnaev. "If someone comes out of a liquor store with a weapon and fifty dollars in cash, I don't care if a drone kills him or a policeman kills him," Paul said as he described how drones would be fine in a situation where "a killer is on the loose in a neighborhood."
Speaking with Stuart Varney this morning, Napolitano said he talked to the senator on the phone this morning and he believes that the answer to whether the senator — once a frequent guest on the judge's former FBN show Freedom Watch — changed his position on drones is: "An unequivocal no."
"The filibuster was about the concept of targeted assassinations, about the president picking and choosing who to kill in the U.S.. or elsewhere who have not received due process of law," the judge explained. "They have not been charged of a crime, they have not been convicted of a crime, they've just gotten in the president's crosshairs. That is the essence of the filibuster."
As for Paul's remark that he'd be okay with drones striking a man "coming out of a liquor store with a gun and 50 bucks," the Fox senior judicial analyst said: "He probably should have said 'Coming out of a liquor store shooting and with 50 bucks.' If someone is using a deadly weapon on police or the civilians, the police can use a deadly weapon with which to repel that person."
He reiterated: "The senator's concern has been killing without due process. He's never been against the technology."
An outspoken libertarian and anti-drone advocate, Judge Napolitano went one step further and railed against the concept of "drones all over the place," including ones that eventually could be the "size of mosquitoes." The best way to combat that potential onslaught? "You need a warrant for that," Judge Napolitano suggested. "Without a warrant, police will use them to look at you in your bedroom or in hot tub. And without a warrant, because it's easier to do so."
"Do we want society filled with flying pieces of plastic that can watch us and that can kill? That's a value judgment," the judge told Cavuto. "It will only happen if the government permits it."
He concluded: "I would argue one step beyond the senator and say we need more than just a consensus on drones, we need a judicial authorization that the Constitution permits the government in your face with a piece of plastic." In his opinion, he said, the government does not have that right.
Watch below, via FBN:
— —
>> Follow Andrew Kirell (@AndrewKirell) on Twitter
Have a tip we should know? [email protected]