Kanye West Booed By SNL Crowd For Pro-Trump Rant: 'They Bullied Me Backstage!'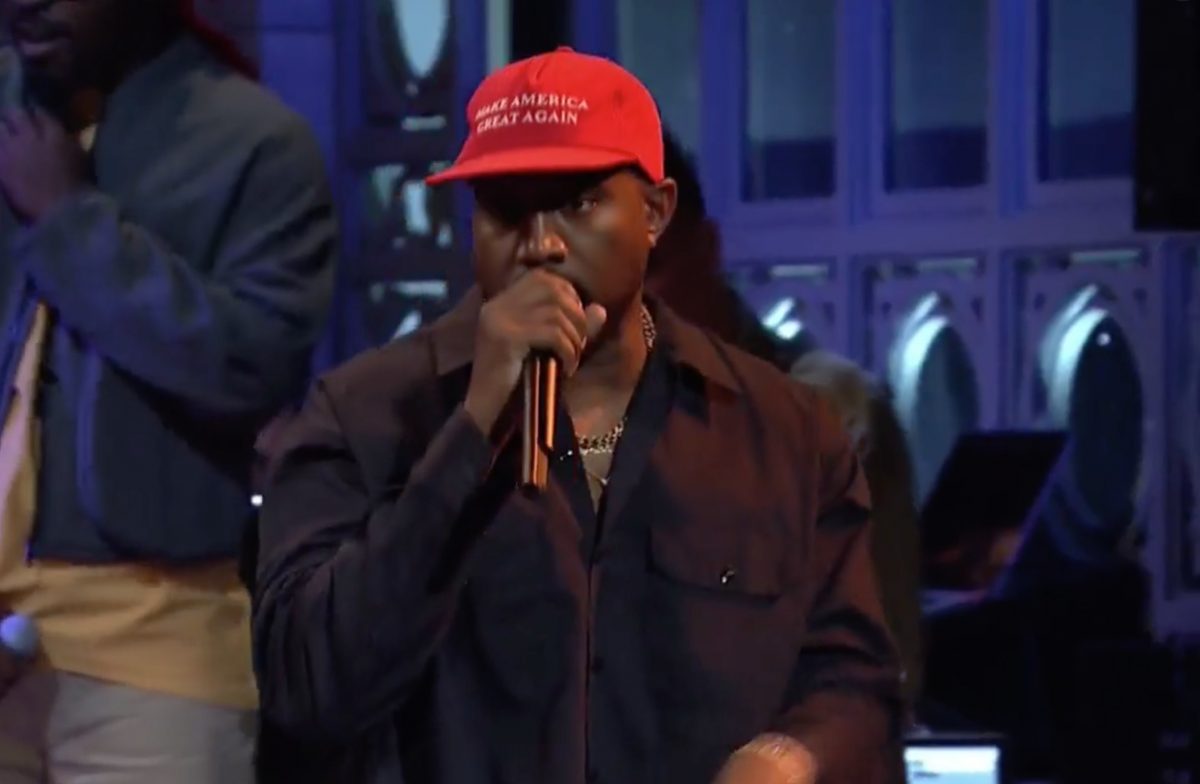 When Kanye West was announced as the performer for the season premier of Saturday Night Live's 44th season, he donned a Make America Great Again hat in the promo. He wore the same hat — a variation of President Donald Trump's signature one, customized by West himself — at his performance on the premier last night.
And then, after wrapping up a rendition of "Ghost Town," with an assist from Kid Cudi and 070 Shake, West took it upon himself to deliver one of his signature rants, this time focused on a current fixation: his support for Trump.
NBC had cut the feed for time, but Mike Dean, West's longtime producer and engineer, posted a clip of the rant on Twitter.
"You see they laughing at me. You heard em the scream at me. They bully me. They bullied me backstage. They said, 'don't go out there with that hat on.' They bullied me backstage. They bullied me!" Kanye said. A sole audience member clapped.
"And then they say I'm in a sunken place," he continued. "You want to see the sunken place? Okay, I'ma listen to ya'll now — or I'ma put my Superman cape on, cause this means you can't tell me what to do. Follow your heart and stop following your mind. That's how we're controlled. That's how we're programmed. If you want the world to move forward, try love."
"I think the universe has balance. 90 percent of news are liberal," West added. "90 percent of TV, L.A., New York, writers, rappers, musicians. So it's easy to make it seem like it's so one-sided."
KANYE SNL TALK THAT GOT CUT OFF FREEDOM OF SPEECH SHOULD HAVE EXTENDED pic.twitter.com/IpULoEJxsN

— MIKE DEAN! #MWA (@therealmikedean) September 30, 2018
Chris Rock also posted some of the rant to his Instagram story:
From Chris Rock's IG story, looks like Kanye gave a speech after NBC cut the SNL feed pic.twitter.com/mYpSxqbw9Z

— Josh Billinson (@jbillinson) September 30, 2018
"I wanna cry right now, black man in America, supposed to keep what you're feelin' inside right now," West sang.
"The blacks want always Democrats… you know it's like the plan they did, to take the fathers out the home and put them on welfare… does anybody know about that? That's a Democratic plan," he said. "There's so many times I talk to, like, a white person about this and they say, 'How could you like Trump? He's racist.' Well, uh, if I was concerned about racism I would've moved out of America a long time ago."
The audience could be heard audibly booing West, and at one point Rock laughed and muttered "oh my god."
Have a tip we should know? tips@mediaite.com
Aidan McLaughlin - Editor in Chief