Kathy Griffin's Cartoonish Mockery Of Sarah Palin As Tea Party Candidate On Glee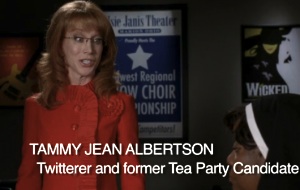 The ongoing feud between comedian Kathy Griffin and Sarah Palin continues with Griffin portraying a character on last night's Fox hit show Glee that looked remarkably similar to Palin and sounded like a mix of past Tea Party candidates. Wearing a red dress and glasses, and being labeled a "Twitterer," the intention to mock Palin was anything but nuanced. Now it will be interesting to see whether Palin has another comment on the work of Griffin, who she previously dubbed a "has-been comedienne."
Griffin's character proudly declared:
"I would like to say I am not a witch. But, um, I think it's fair to ask: Do we have written proof that these kids were born in the United States of America? . . . The last thing we need to do is send a message to children that 'Gay is okay.' It is not a legitimate lifestyle, and last time I checked, it's not in the Constitution."
Given the rhetorical back and forth between Griffin and Palin, the cameo was highly anticipated, but went over like a lead balloon. EW's television critic Ken Tucker called Griffin's bit part "the evening's dud moment in the episode written by show co-creator Ryan Murphy." Tucker continued "It's hard to believe that Murphy couldn't come up with any better lines than, "I am not a witch" (a snicker at Christine O'Donnell) and 'Obama is a terrorist.'"
While Glee plays with topical themes and hot-button opinions regularly, the hit show rarely enters political territory in such a blatant fashion. Yet given that Griffin's appearance was so quick, many "Gleeks" (the term affectionately(?) describing fans of the show) probably didn't even know who or what Griffin was attempting to mock. Especially since a line like "I twittered that Obama is a terrorist" likely takes a comedic backseat for most to fellow guest star Loretta Devine's former stripper, who became a nun just because she needed a place to live.
Glee's Executive Producer Ryan Murphy is a fairly brazen contributor to what some call the "culture war" dialogue, and it certainly seems like he and Griffin had conspired to score some cheap points by reducing Palin to a one-dimensional caricature. The irony is that this particular scene is far more likely to create good-will for the flagging former Governor because of an unfair portrayal, only fueling the notion that the "liberal Hollywood elite" are out to get Ms. Palin. Scenes like this make such a comment seem less a by-product of paranoia, and more of a legitimate case.
Watch the clip from Fox below:

Have a tip we should know? tips@mediaite.com