This Happened: CNN's Don Lemon Talks To Kris Jenner About Her Sexual Arousal Oil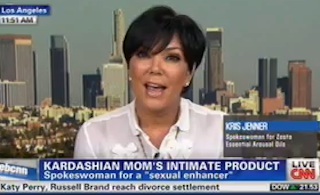 The crisis in Syria had to take a backseat to Keeping Up With The Kardashians matriarch Kris Jenner on CNN Thursday, who appeared on the cable news network to promote Zestra, an "amazing" female sexual arousal oil. "I live a complicated life," Jenner told a visibly squeamish Don Lemon. "We're all busy and crazy. so I've stumbled across a product called Zestra that's the most amazing product to spice up your love life."
RELATED: Did The Kardashians Fake Footage From Dubai? The Internet Says 'Come On, Seriously?'
Jenner explained that — in the same vein that environmentalists advocate making every day Earth Day — she wants to make every day Valentine's Day with this very special — nay, "amazing" — lubricant.
"Now that it's Valentine's Day, you know, I've been sort of spreading the message that you can make every day Valentine's Day and women seem to love it it's clinically tested, and it's fantastic. and you know what? Anybody in a long-term relationship or even a short one but for me I've been married 21 years. When I find something that can spice it up a little bit, I get really excited about it!"
"What is this product then?" Lemon uncomfortably queried. "Is it like a Viagra for women? What is it?"
"You guys have had all these products. You know, men, for so many years, that kind of help you out in the bedroom area. It's like our turn now. So this is a topical product, and it works instantly. I love instant gratification. It's kind of amazing."
Did she mention Zestra was amazing?
For viewers still confused about this product, here's the press release:
Zestra is a topically-applied, over-the-counter product from Semprae Laboratories, Inc., that is clinically proven to enhance women's sexual pleasure. Jenner, a 56-year old mother of six and wife of Olympic Gold Medalist Bruce Jenner, is a savvy entrepreneur who has helped build successful brands for herself and her daughters.
Just FYI.
Watch the segment below via CNN:

Have a tip we should know? tips@mediaite.com