Lawrence O'Donnell Bashes 'Deadbeat Congressman' Joe Walsh For Missing Child Support Court Date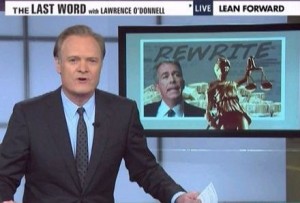 Thursday night, The Last Word host Lawrence O'Donnell devoted his "rewrite" to a man he has officially banned from appearing on the show: Congressman Joe Walsh — a Republican congressman from Illinois who is $117,437 behind on his child support payments to his first wife for their three children. O'Donnell informed viewers that he has but one rule for his show: he will not allow anyone to come on as a guest "unless and until they pay their child support obligations in full."
O'Donnell reported on how Cook County Circuit Judge Raul Vega had been quite upset over Walsh's failure to show up in court Wednesday. It would appear from the segment that there are two things that can really, really get to Lawrence O'Donnell: The existence of Donald Trump, and people who do not make their child support payments:
Congressman Walsh's spokesman tried to pretend to us that the Congressman just had to be in Washington yesterday, for all the important work of a freshman congressman who is not taken seriously by anyone on Capitol Hill. The Congressman's only official act yesterday to vote. And he was called upon to do that only once.

The Republican bill passed the house 232 to 186. Everyone knew ahead of time that Congressman Walsh's vote wasn't going to matter. The margin was just going to be too great for any individual vote to matter. That's exactly the kind of vote a member of Congress can and does miss if he or she has something more important to do, like, you know, maybe pay child support, which every member of Congress should agree is more important that voting on a bill and, in fact, is more important than being a congressman.
No show, he continued, should invite Walsh — "a disgrace to the Republican party" — on as a guest until he gets his house in order, particularly since he has used his media appearances as an excuse for not appearing in court. And we admire O'Donnell's conviction.
But if television news hosts were to deny a spot to every politician who did something untoward, unethical, illegal, or repugnant… who on earth would they have left to talk to?
Watch the segment for yourself, via MSNBC:
Have a tip we should know? tips@mediaite.com