Lawrence O'Donnell Conducts Unbelievable Trainwreck of an Interview with Anthony Weiner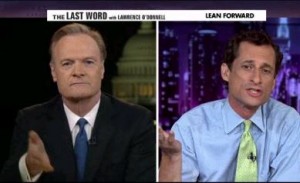 Think of all the negative, nasty, unbelievable things Anthony Weiner has ever done. Does "a pathological need to be in public politics" enter the top ten? No? Well, good thing you're not Lawrence O'Donnell then, because that was the first and ONLY issue he took with Weiner in an interview Monday. There are no words that can do this mess justice, only to say that for the first time since the first picture of his penis emerged on the internet… you may end up feeling bad for Anthony Weiner.
O'Donnell opened the interview with a penetrating question: "What is wrong with you?"
He elaborated, but it didn't sound any better.
"What is wrong with you that you cannot seem to imagine a life without elected office?"
See, O'Donnell didn't dwell on the sexting and the lying, he was more interested in Weiner somehow having this kind of pathological need to stay in elected office, which I don't think is necessarily a Weiner-only problem in politics (if the incumbency rate in Congress is any indication). Weiner got a bit snarky with O'Donnell, while O'Donnell kept going on and on about what the hell is wrong with him, going so far as to say Weiner might have some personal "demons" keeping him in politics.
(Sidenote: this interview just further confirmed my theory that O'Donnell is basically the real-world version of Will McAvoy.)
And AMAZINGLY, Weiner actually stayed for an eight extra minutes on the web, taking great glee in mocking O'Donnell for his obsessive need; namely, being on television four nights a week. O'Donnell, seemingly stuck on this one issue like a toddler who keeps incessantly asking you WHY WHY WHY WHY WHY, kept pressing Weiner on what exactly is wrong with him.
What's absolutely galling about this whole mess is that O'Donnell seems to think Weiner's texting-inappropriate-pictures-then-lying-about-it-again-and-again-and-again-and-then-having-the-nerve-to-think-New-Yorkers-should-just-up-and-forgive-him-mess… ISN'T REALLY THAT BIG OF A DEAL. And when Weiner says that just shouting at him "What's wrong with you?" isn't adding anything constructive to the debate… he's right!
As bad as Weiner's swagger gets at times, it really can't match the dripping––nay, drooling–condescension pouring from O'Donnell's lips.
Watch below, via MSNBC, and I DEFY you not to feel just the tiniest pinprick of sympathy for Anthony Weiner:
And here's the online-only segment:
[photo via screengrab]
— —
Follow Josh Feldman on Twitter: @feldmaniac
Have a tip we should know? tips@mediaite.com
Josh Feldman - Senior Editor