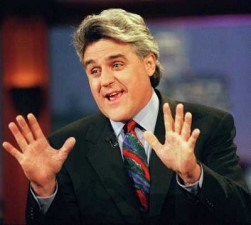 In his appearance on The Oprah Winfrey Show today, Jay Leno told the host that "NBC could not have handled it worse, from 2004 onward," while being interviewed for the first time about his return to The Tonight Show. Leno went on to say he was "devastated" when NBC honcho Jeff Zucker asked him to pass on The Tonight Show six years ago, and that he told "a little white lie" in sharing his support publicly for Conan O'Brien, according to show notes from the New York Times. Doesn't a "white lie" imply unimportance? Conan circa 2010 might disagree.
Via the Times:
Ms. Winfrey pressed Mr. Leno frequently about how the reaction to the moves have affected him, especially the accusations that have been leveled against him by Mr. O'Brien's supporters that he was being selfish and should have retired. (She also cited a poll of her own viewers that showed an overwhelming 96 per cent of them believed he should have left the show to Mr. O'Brien.) Mr. Leno defended his decision, saying he had a staff who wanted to keep working and that he himself had no desire to just walk away from a job he loves.

"If you're a gunfighter you'd like to die in the street," he said.
Leno also goes on to say he was "sucker punched" by Jimmy Kimmel's skewering of him on The Jay Leno Show, and speaking of Conan, Leno said, "Great performer and good comic and a good guy. There's no–no animosity there." On the future, Leno noted, "I think he will have a successful show on Fox or somewhere else. And then we will all compete again and may the best man win."
Video to come!
Have a tip we should know? tips@mediaite.com