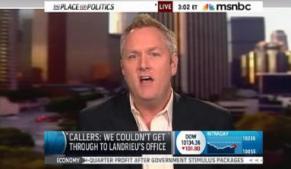 Now that Andrew Breitbart and David Shuster have sufficiently yelled at each other on MSNBC over the James O'Keefe III arrest, let's recap how we got to this point – and what's next.
Here's a few of the big storylines.
Twitter has played a major role in the entire back-and-forth.
• It started with O'Keefe, who tweeted the day of the arrest: "I am a journalist. The truth shall set me free." Shuster responded directly to O'Keefe:
@JamesOKeefeIII a) you are not a journalist b) the truth is you intended to tap her phones c) it's a felony d) you will go to prison

@jamesokeefeIII oh, and did I mention that your tweet will help prosecutors prove intent? Keep at it, young man. I'm enjoying this a lot.
This jumping to conclusions caused a bit of an uproar in the right-wing blogosphere.
• …And it also seemed to cause a minor uproar within MSNBC. Politico's Michael Calderone has a response from an MSNBC spokesperson about Shuster's tweets. "The comments were inappropriate," said a spokesperson. "We have talked to David about them." Talked, but something more? Shuster hasn't tweeted since early Wednesday morning – we've reached out to MSNBC to see if he has been suspended from using the service for any amount of time.
• Part of this story relates to the fact that Shuster, after tweeting that, has been the lead MSNBC reporter covering the story since last night. His reports today have focused on whether if O'Keefe broke the gag order by tweeting this last night: "Govt official concedes no attempt to wiretap."
• And now Breitbart. He tweeted this before the interview today: "I expect Shuster ambush. Already know its on 'money trail®'. But what other MSNBC gems can be expected now that Watergate Jr is imploding?"
Then there was the big showdown. And then there's the aftermath.
• Breitbart says Shuster "lied to get me to appear on MSNBC." Breitbart publishes the email Shuster sent him asking him to appear, which says Shuster doesn't "have a horse in this race." Writes Breitbart:
As you see, Shuster is attempting to lure me into this story based upon the false premise of his objective neutrality. Notice he says, "As I said, I don't have a horse in this race." A simple Google search of David Shuster and James O'Keefe immediately finds that Shuster went into a Twitter frenzy to tar and feather James O'Keefe and propagated what are now provably false lies about the Landrieu case.
Did Breitbart not know what he was getting into? It's hard to believe, considering the whole backstory.
Here's the showdown again:


—–
» Follow Steve Krakauer on Twitter
Have a tip we should know? tips@mediaite.com