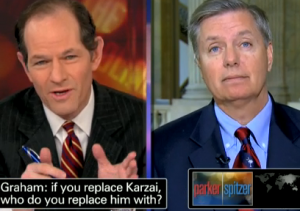 Parker/Spitzer co-host Eliot Spitzer has made no secret of his distaste for Afghan president Hamid Karzai, (Spitzer considers him the corrupt leader of a puppet regime) and on tonight's show the suggestion by Sen. Lindsey Graham that the U.S. make air bases in Afghanistan permanent nearly causes the ex-Governor to go–ever so briefly–speechless:
SEN. GRAHAM: Under the right circumstances, I think it would really secure the gains we've made to have a U.S. presence in Afghanistan, two air bases that would be beneficial to the Afghan security forces–only if the Afghans want it–as a way to make sure this country never goes back into the hands of the Taliban. I think that would be a good way to end the Afghan conflict.

SPITZER: You know, Senator…I hear what you're saying and I'm actually kind of startled by it. Because my recollection was that this war was about Al Qaeda and terrorism, not about nation building in Afghanistan. You're now suggesting a permanent in perpetuity presence in Afghanistan…perhaps the most corrupt country…a president who takes bags of cash from Iran…what are we doing?
Graham concedes Afghanistan is corrupt, and says it's "going to take some time" for it to get better. But under questioning from Spitzer, Graham says the objective of the war in Afghanistan is not to go after Al Qaeda–who Spitzer argues have fled the country for Pakistan, Somalia and Yemen–but rather, to ensure the country is "never attacked again by Islamic extremists."
Watch the exchange, from CNN:
Have a tip we should know? tips@mediaite.com