Maddow Tears Into Rand Paul For Denying He Questioned Civil Rights Act: You Did Question It. On My Show.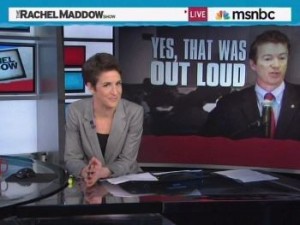 Remember when Rachel Maddow interviewed then-Senate candidate Rand Paul in 2010 over whether he supported the Civil Rights Act? It was one of the first times Paul got national media attention, since he admitted to having some serious issues with the landmark legislation. So it was with some shock that Maddow reacted to Paul's claim during an event at Howard University today that he "never came out in opposition to the Civil Rights Act." Maddow slammed Paul for trying to run away from something she still remembers very well.
RELATED: Rand Paul Randsplains How Republicans Lost The Black Vote: Black People Just Don't Understand
Maddow reminded viewers that Paul had a somewhat awkward time reaching out to Latino voters in a speech at the Hispanic Chamber of Commerce last month, only a day after the GOP released its "autopsy" report recommending they need to do better with minority voters. And Maddow pointed out how Paul had a similarly awkward moment at Howard, when his attempt to call out the crowd for not knowing enough about black history backfired.
But then Maddow ran the clip of Paul stating quite ardently, "I've never questioned the Civil Rights Act, never came out in opposition to the Civil Rights Act." He mentioned "one interview" he did about it, a clear reference to his interview with Maddow three years ago, in which he said that he has concerns with the idea of ordering private business owners to implement non-discriminatory practices. Maddow explained tonight that she "never got a straight answer" from Paul about whether or not he supported it.
But with the GOP only weeks removed from its new plan to reach out to minorities, Maddow asked if Paul is really the "outreach director" the party needs at this time.
Watch the video below, courtesy of MSNBC:

—–
Follow Josh Feldman on Twitter: @feldmaniac
Have a tip we should know? tips@mediaite.com
Josh Feldman - Senior Editor