Man vs. Food Host Adam Richman in Hot Water for Calling Critic 'C*nt,' Suggesting She Kill Herself
Man vs. Food
Host in Hot Water for Calling Critic 'C*nt,' Suggesting She Kill Herself
Travel Channel's Man vs. Food host Adam Richman stepped in a bit of controversy earlier this week when he shared a photo of himself accompanied by the "thinspiration" hashtag, and subsequently lashed out at critics by calling several "cunts" and suggesting they kill themselves. He later apologized on multiple platforms.
In the now-deleted Instagram post, Richman posed in a mirror showing off his dramatic weight loss via his tailored suit pants no longer fitting him. The caption read: "Had ordered this suit from a Saville Row tailor over a year ago. Think I'm gonna need to take it in a little…. #Victory #EyesOnThePrize #AnythingIsPossible #fitness #transformation #thinspiration"
The above screengrab was captured by an anti-"size discrimination" blogger named Amber, who explains her issue with Richman's chosen hashtag:
Thinspiration? Oh really? Now for those of you not hip to the lingo, thinspiration is very popular in pro-anorexia and pro-bulimia circles, generally consisting of pictures of emaciated bodies, mantras like 'what's more important, that slice of pizza or a thigh gap?' and suggestions, tips, and motivation to either starve or purge.
Once Amber and several cohorts confronted Richman for "thinspiration," things got rather ugly (We don't know what the now-deleted confrontations said because there are no screengrabs, sadly). The Travel host told his first critic "DILLIGAF?" (acronym for "Do I look like I give a fuck?"), prompting Amber to re-post his response with a message for her followers: "[T]ell him that eating disorders are not a joke and nothing to take lightly." Richman's responses to those critics got even uglier, allegedly calling one a "cunt":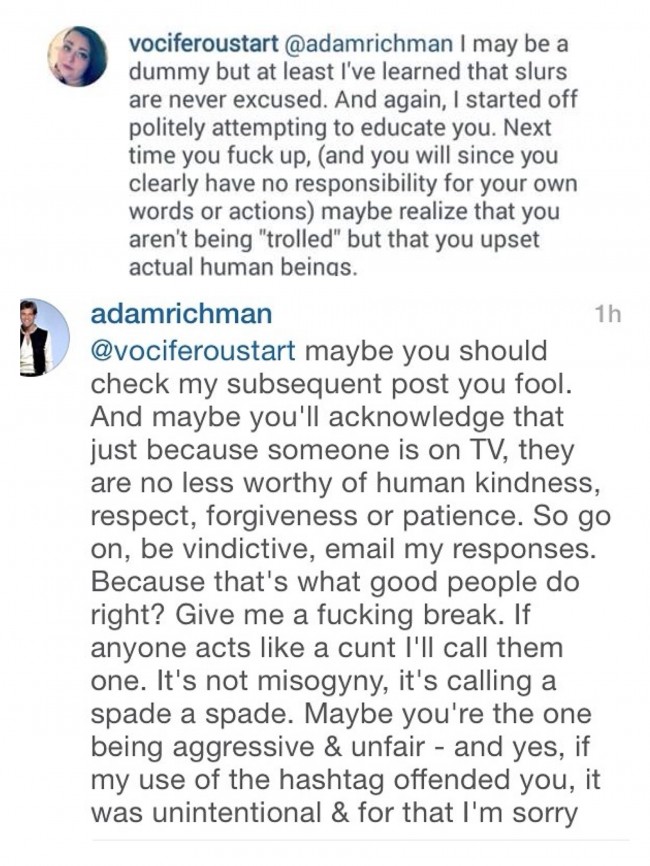 More, including suggestions for haters to kill themselves: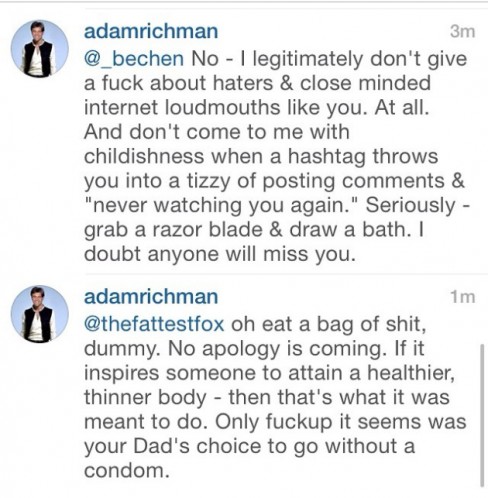 Naturally, after the dust settled, Richman apologized with an Instagram video:
And a tweet:
Yes. I've responded to internet hate recently with vile words directed at those hating me. I am sorry, I should know better & will do better

— Adam Richman (@AdamRichman) June 20, 2014
His activist critics, however, do not seem satisfied. "He's obviously not learned anything from this incident," Amber wrote, noting that "he waxed poetic about people being oversensitive and pandered to his fans" in the comments section of his apology. She called upon readers to call and email Travel Channel to complain about Richman.
— —
>> Follow Andrew Kirell (@AndrewKirell) on Twitter
Have a tip we should know? tips@mediaite.com