Man Wearing 'Make America Great Again' Hat Attacked and Choked on New York Subway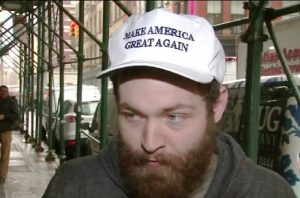 While there has been a lot of attention on the number of incidents of harassment and intimidation done in the name of Donald Trump following his election victory, there have also been instances of his voters getting attacked for supporting the President-elect.
Speaking to ABC7 News, Bronx native Corey Cataldo explained how he was attacked and choked on a New York City subway last week over his 'Make America Great Again' baseball cap.
According to Cataldo, he was asked by another passenger if we was a Trump supporter. He thought the passenger was going to say "me too," because he had gotten that a lot while wearing the hat, but instead the man placed his hands around his neck.
He also noted that instead of receiving help, another person joined in.
"I try to fight him off, and another gentleman comes over, pretends like he's going to help me and says 'get off of him.' He shoves me up against the wall, up against the window," Catlado said.
The 24-year-old electrician stated that he was only saved by the next stop as one of the attackers decided to get off at that time. He filed a police report and they are looking for the two men who went after him.
Cataldo said that while he has experienced discrimination from business over his hat, with some shops refusing to serve him, he will keep his hat on "for the next eight years." While he has some pain from the attack, it hasn't caused him to miss any work.
Watch the interview above, via ABC7 News.
[image via screengrab]
–
Follow Justin Baragona on Twitter: @justinbaragona
Have a tip we should know? [email protected]