Mark Kelly's Pocket Cam Video Destroys Breitbart/Fox News Gun Purchase Gotcha! Smear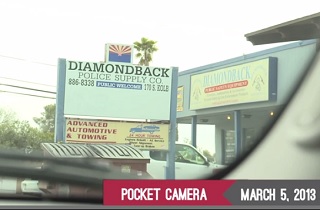 For the past several weeks, the conservative media has taken a sudden interest in meticulously tracking firearm purchases, as long as they're made by the spouse of a gun violence survivor. Breitbart News has put out over a dozen stories accusing Mark Kelly of lying about gun purchases he says he made in order to prove a point, and Fox News "hard news" personalities Megyn Kelly and Trace Gallagher played along. Now that Kelly has published irrefutable proof of his claim, Breitbart News and Fox News have suddenly fallen silent about Mark Kelly's purchases.
Earlier this month, retired astronaut and Gabby Giffords husband Mark Kelly purchased some firearms at an Arizona gun store, and posted a photo of the purchase on Facebook, along with a message about the ease of background checks. Breitbart News then reported that Kelly purchased a .45 semiautomatic pistol and a used AR-15, then posted a message about the purchase on Facebook, and heavily implied that Kelly only made that revelation on Facebook because Breitbart News was asking around about it. Lost on the wingnuts who promoted this smear was the fact that Kelly had himself photographed filling out the background check form, a fairly ironclad piece of evidence that he always intended to post about the purchase on Facebook.
Fox News anchor Megyn Kelly and reporter Trace Gallagher also obscured that crucial fact when they presented Breitbart News' accusations as a legitimate controversy, and cherry-picked a clip from Mark Kelly's interview with CNN's Wolf Blitzer that did not include Kelly's refutation of the Breitbart smear. Blitzer asked Kelly "The conservative news site Breitbart suggested you went public with this decision to buy the AR-15 because they were about to report it. What do you say about that?"
"Well, I don't know anything about who Breitbart is, or anything about his website," Kelly responded. "We had a plan to go in there to buy a .45, and if we had the opportunity, to buy an AR-15 as well. I don't know the timing, but we had a plan when we were going to announce that on Facebook."
For good measure, Gallagher also misreported on Arizona state law regarding the disposal of voluntarily-surrendered weapons.
Since then, Breitbart News has been all over Kelly's gun purchases, posting article after article attempting to refute his claim that the gun purchases were made with the intention of publicizing them. Mark Kelly was also on Fox News' radar as recently as this past Tuesday, when Megyn Kelly and Trace Gallagher corrected their earlier reporting reported on the gun store owner's refusal to complete the sale of a weapon to Mark Kelly:
Notice that Gallagher drops the claim that Mark Kelly was forced into publicizing his purchase, and his incorrect claim about Arizona state law, without correcting either of them.
On Wednesday, of course, Mark Kelly released a video that conclusively proved he always intended to publicize his purchases. Kelly explains the purpose of his visit to the gun store to his wife, then to the camera as he drives to the store, and videotapes himself filling out the background check:
Kelly published the video through his and Giffords' Americans For Responsible Solutions group, along with the following email:
Five minutes and thirty-six seconds…

That's how long it took me to complete a background check to purchase a handgun earlier this month at an Arizona gun store.

Gabby and I are gun owners, so we know background checks are simple, painless, and meant to keep guns out the hands of criminals and the mentally ill.

But not everyone knows that.

So when I bought this gun, I went in with a pocket camera to demonstrate how quick and easy it is to complete the background check process. I hope you'll watch it and share it with your friends and family today.

Background checks are a common sense solution to reduce gun violence that everyone should be able to get behind. Unfortunately, we still have a lot of work to do. Sharing this video is one way we can spread the truth about background checks.

I'm glad we're in this fight together.
Mark Kelly's video has not, thus far, been reported on, or shown by, either Fox News or Breitbart News, each of whom appear to owe Kelly a correction, and perhaps an apology.
Have a tip we should know? tips@mediaite.com