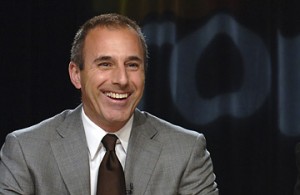 The open-ended question of Matt Lauer's fate finally has an answer. NBC has signed Lauer to a multiyear contract, keeping him as a co-host with The Today Show. The news will officially be announced Friday morning.
RELATED: Did Part Of Matt Lauer's New Deal Include Booting Ann Curry From The Today Show?
According to The New York Times, Steve Capus, president of NBC News, "confirmed Thursday evening that Mr. Lauer had signed what he called 'a long-term deal' to continue as the leading figure on the most profitable show on NBC."
Capus told the Times in a phone interview, "Matt is the franchise, and our franchise player has decided to keep leading our team."
The news puts an end to speculation that Lauer may not stay with the network. From the Times:
Mr. Capus said the negotiation with Mr. Lauer was never difficult because of the terms.

"Matt always said he would only continue if he could be all-in," he said. "The all-in factor was really key. This is demanding job with a demanding schedule. For him it was a question of lifestyle. As his family is getting older he wants to be able to spend more time with them."

Financial terms were not disclosed, but Mr. Capus called recent published speculation about the amount of money Mr. Lauer might be offered "complete silliness."
While terms were undisclosed, NYT's Brian Stelter tweeted:
I'm hearing "$25 million a year" for Matt Lauer to stay at "Today," with an additional signing bonus. Highest-paid morning anchor by far.

— Brian Stelter (@brianstelter) April 5, 2012
That figure is consistent with previous rumors. If true, it would be about an $8 million increase for Lauer.
(H/T NYT)
Have a tip we should know? tips@mediaite.com