Meet The Press Roundtable: Why Didn't Congress Move Gun Control 'Quickly In The Weeks After Newtown?'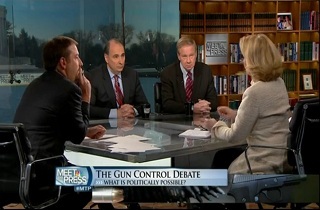 This morning on NBC's Meet The Press the roundtable confronted the waning support for new gun control legislation even though some polls show over 90 percent of Americans want so-called universal background checks.
Former Obama campaign strategist, David Axelrod, said he thinks the the politics on gun control remain unclear. "On the Republican side I would be looking hard for something I can vote for to satisfy that desire to deal with this problem," said Axlerod.
"It's tough. I mean it's an intensity issue. The polls measure one thing but the people who vote on it tend to be the people who don't want the changes at this point. In the Republican base, which is largely rural, there's no percentage of them voting for this in these districts," said former Virginia Congressman Tom Davis.
An exasperate Peggy Noonan chalked up the decline in interest in the issue to the national distrust of a slow moving Congerss. "After Newtown there was a great bubbling feeling of 'My goodness there must be somethings we can do legislatively to make this whole gun situation better,'" Noonan said.
Noonan said that the window on passing gun control closed very quickly after the Newtown disaster.
Washington Post columnist Eugene Robinson questioned whether New York Mayor Michael Bloomberg can keep interest in this issue alive long enough in order to get something done.
Host Chuck Todd was skeptical that all the hullabaloo about gun control now will have any impact at the polls in November 2014.
Watch clip below via NBC.
Have a tip we should know? tips@mediaite.com