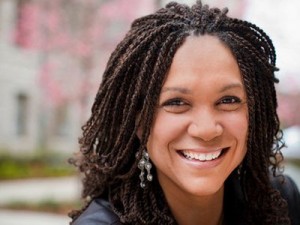 Perhaps buoyed by the success of buzz-building political rounndtable Up With Chris Hayes, MSNBC has announced that longtime contributor and fill-in host Melissa Harris-Perry will host her own weekend show, beginning Feb. 4th at 10am. Harris-Perry will follow Up, which moves to 8am-10am both days, and will lead in to Weekends with Alex Witt.
Although the news may disappoint fans of Lock-Up, MSNBC's political-junkie audience ought to be pleased. Viewers and media types have long bemoaned the lack of news programming on MSNBC's weekend slate, and Melissa Harris-Perry has been a welcome, popular presence on the network for years. She also matches well with the low-key, easy vibe of Chris Hayes and his Up panels. Speaking of which, the other silver lining is that Up viewers will now have an extra hour to sleep on Saturdays.
Here's the full press release, from MSNBC:
MELISSA HARRIS-PERRY TO DEBUT WEEKEND PROGRAM ON MSNBC—FEBRUARY 4th 10 AM-NOON ET

WEEKEND LIVE PROGRAMMING TO EXPAND: "WEEKENDS WITH ALEX WITT" TO AIR 7-8 AM ET SATURDAYS, NOON-2 PM ET SATURDAY AND SUNDAY

"UP W/CHRIS HAYES" TO AIR 8-10 AM ET SATURDAY AND SUNDAY
NEW YORK—January 5, 2012—MSNBC contributor Melissa Harris-Perry is the latest addition to MSNBC's expanding weekend lineup. Her new program, set to air Saturdays and Sundays 10a-noon ET, will debut on MSNBC February 4th. The announcement was made by MSNBC President Phil Griffin. Chris Hayes will continue to lead off MSNBC's weekend programming with his popular roundtable program 'Up,' which will begin airing from 8-10am ET on both Saturdays and Sundays. MSNBC anchor Alex Witt will expand MSNBC's live news coverage in both the morning and the afternoon, with "Weekends with Alex Witt" airing 7-8a ET Saturdays and noon-2p ET on Saturday and Sunday.

Harris-Perry, a long-standing political analyst and contributor to MSNBC, is a frequent guest of "PoliticsNation" with Rev. Al Sharpton, and also serves as occasional host of "The Rachel Maddow Show" and "The Last Word." A highly accomplished author, scholar and speaker, Harris-Perry's new program will continue MSNBC's trend of bringing intelligent, informed voices to the cable channel's weekend programming.

"Melissa's thoughtful analysis has been an incredible addition to our primetime programs and I'm thrilled to have her join our expanded weekend line-up," said Griffin. "Alex Witt has led our weekend programming for many years and will continue to be our chief weekend news anchor, kicking-off and wrapping up our live coverage each day. Weekend mornings are a time when our audience wants intelligent political conversation, as the success of Chris Hayes has shown, in addition to coverage of all the headlines. As the political year gets underway, there's no better time to build up our weekend coverage, which Alex has helmed so well for years."

"This is an extraordinary opportunity," said Harris-Perry. "All I've ever wanted to be is a teacher. Phil Griffin and MSNBC are giving me the chance to have a much bigger classroom. I'm particularly excited to join the growing weekend lineup where we have a chance to take a longer and broader view of the week's political news."

In addition to her role at MSNBC, Melissa Harris-Perry is also columnist for The Nation magazine, and will continue to write her monthly column, titled Sister Citizen. Harris-Perry is also a Professor of Political Science at Tulane University, where she will continue to teach, and is the Founding Director of the Anna Julia Cooper Project on Gender, Race, and Politics in the South, housed at the university's Newcomb College Institute. A celebrated author, Harris-Perry recently published her second book, Sister Citizen: Shame, Stereotypes, and Black Women in America (Yale 2011), which examines the effects of persistent harmful stereotypes on black women's politics. Her first book, Barbershops, Bibles, and BET: Everyday Talk and Black Political Thought, won the 2005 W. E. B. Du Bois Book Award and 2005 Best Book Award from the Race and Ethnic Politics Section of the American Political Science Association.

In 2009, Harris-Perry became the youngest scholar to deliver the W.E.B. Du Bois Lectures at Harvard University, as well as the youngest woman ever to deliver the prestigious Ware Lecture. Harris-Perry received her B.A. in English from Wake Forest University, her Ph.D. in political science from Duke University and an honorary doctorate from Meadville Lombard Theological School.

Additional information about Harris-Perry's new program will be released closer to its launch on February 4th.
Have a tip we should know? tips@mediaite.com