Michael Steele Laughs At Chris Matthews Over 'Silly' Theory That GOP Trying To 'Destabilize' The Gov't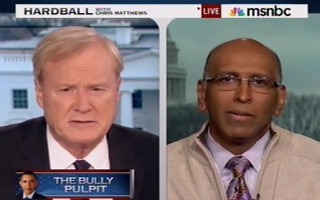 A segment on MSNBC's Hardball with Chris Matthews became heated on Tuesday amid a series of tense exchanges between the host and former Republican National Committee Chairman Michael Steele. When Matthews declared the Republican Party in Congress was trying to "destabilize" the federal government in the same way that the CIA destabilized adversarial foreign governments in the Cold War, Steele laughed in his face.

During a segment on the upcoming sequester cuts, Steele argued with former Pennsylvania Gov. Ed Rendell about the necessity of another round of tax increases. They battled over the need to eliminate deductions for the nation's wealthiest as part of a balanced deal to avoid the sequester cuts.
Matthews accused Steele of defending the current tax code when he said he opposed confiscating still more money from wealthy individuals through tax reform. Steele replied that he favored tax reform. "But none of this is serious right now," Steele asserted. "No one's getting the job done."
Matthews referenced a quote from House Speaker John Boehner (R-OH) in which he says that House Republicans already voted to raise taxes on all Americans just last month and already the president is asking for more.
"Back in the early 50s, when the Cold War first got started, if we didn't like the way a foreign government was doing things – whether it's Guatemala, or it's Iran, or it's the Dominican Republic, or it's Chile — we destabilized it," Matthews said. "Now we're doing it to our own country."
Steele laughed at Matthews' assertion. "You know that's what they're doing," Matthews insisted. "They're destabilizing the government."
"The idea that we want to bring down the government is just silly," Steele replied.
Watch the segment below via MSNBC:
> >Follow Noah Rothman (@NoahCRothman) on Twitter
Have a tip we should know? tips@mediaite.com