Michelle Malkin Calls Obama's 'You Didn't Build That' Remark Turning Point In The Election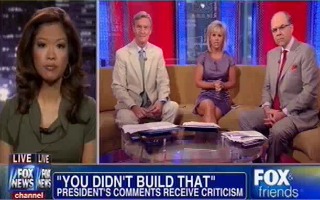 Conservative columnist Michelle Malkin appeared on Fox & Friends on Thursday where she was asked to weigh in on comments made by President Barack Obama about how private sector success is due, in part, to public projects that make succeeding possible. Malkin said that his comments, specifically Obama saying "if you have a business, you didn't build that," represent a turning point in the 2012 election.

RELATED: Malkin Slams Obama's Supporters: Romney Supporters Sign Front Of Paychecks, Obama's Sign The Back
Malkin cited comedian Jon Lovitz who posted a picture to his Twitter account mocking President Barack Obama over the "you didn't build that" comments as part of the the vanguard that makes up a grassroots backlash against these comments. "This is just a part of a massive social media pushback," said Malkin.
"I think Obama certainly touched a nerve," Malkin continued. "There are a lot of independent, small business owners who I think felt very aggrieved and insulted by – not just the specific words that Obama used – but the larger ideological contempt and derision and ignorance that is shown by so many of these bureaucrats in Washington."
When asked if she thought the moment marked a turning point in the election, Malkin said she thought it was the beginning of a turning point. She cautioned conservatives, however, to link Obama's comment to what she calls the "corruption" of the Obama administration.
Malkin said that Republicans should draw the focus of voters to the "redistribution of individual entrepreneur's and business owner's wealth to other businesses that are cronies of this government."
Watch this segment below via Fox News Channel:
> >Follow Noah Rothman (@Noah_C_Rothman) on Twitter
Have a tip we should know? tips@mediaite.com