MSNBC Anchor Calls Out Nina Turner As a Hillary Supporter, She Denies and Asks To 'Roll the Tape'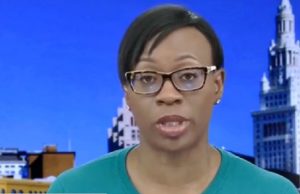 During an appearance on MSNBC this afternoon, former Democratic Ohio lawmaker and MSNBC political analyst Nina Turner pushed back against anchor Thomas Roberts' claim that she had previously told him that she favored Hillary Clinton over Donald Trump. The one-time Bernie Sanders surrogate refuted that she was supporting any candidate in the general election and insisted that she never said she was a Hillary supporter.
Discussing the recent FBI letter from James Comey and the emails from Huma Abedin, Roberts wanted to know if this story made her rethink her choice of backing Clinton.
"I know that you were a super Bernie Sanders supporter," Roberts stated. "And in light of this, and the fact you got on board and backed Hillary Clinton, does any of this make you regret that decision?"
Immediately, Turner noted that she is "not backing anybody in this general election," adding that she wanted to "clear that up right away." She proceeded to decry that the American people have taken a backseat in this election and that nobody is talking about income inequality, but instead just focusing on "drama and more drama."
Roberts interrupted, telling Turner that he's had her on before and she's said that she's "wanted Hillary Clinton over Donald Trump," asking her straight up: "How do you say you aren't a Hillary Clinton supporter?"
"You had me on the show earlier," a puzzled Turner inquired. "You need to go back and roll the tape, Thomas. Not me!"
She also noted that the two of them had "never had that conversation."
At the end of the segment, a thoroughly confused Roberts, who seemed absolutely certain Turner had told him previously she was voting for Clinton, said he was "just going to have to leave it there."
Watch the clip above, via MSNBC.
[image via screengrab]
–
Follow Justin Baragona on Twitter: @justinbaragona
Have a tip we should know? tips@mediaite.com