MSNBC Host: 9/11 Response Was 'Horrific Racial Violence' Directed At America's Non-White 'Racial Enemies'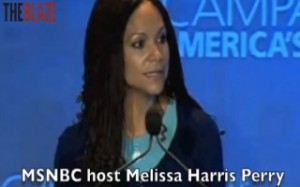 MSNBC Host Melissa Harris-Perry, speaking at a Washington D.C. conference on Monday, called America's response to 9/11 "horrific racial violence" and a reaction to what Americans typically need in the wake of events like September 11th, an "imagined racial enemy." She went on to say that Americans derive their notions of national security through how they view "whiteness" and "who are our racial enemies that are the non-whites."

RELATED: Melissa Harris-Perry Explores Misconceptions About Mormon Religion With Mormon Panelists
Speaking at the Take Back The American Dream conference in Washington D.C. on Monday, Harris-Perry made her controversial comments about 9/11.
Perry began with a joke:
"We began with a kind of nationalist ferver that was justified as reasonable patirotitsm," Perry begins. "I'd like to point out that we clearly must have been having post-traumatic stress disorder because for about a year after September 11, there were African American men walking around the city of New York with NYPD hats on. That can only be explained as a PTSD response."
She goes on to describe what she feels was the United States' racial response to the attacks of 9/11:
"The other thing that happenes in that moment, I don't want to miss this, is that a new version of what America typically needs emerges – and that is a racial enemy," Harris-Perry said. "Americans, in part, identify who we are and who deserves what through our notion of whiteness and who are our racial enemies that are the non-whites."
"The new racial enemy became not so much Reagan's 'welfare queen,' who was imaginary, but instead this imagined other that is somehow Muslim, or Arab, or Sikh, or something else," Harris-Perry continued.
She called America's response to the 9/11 attacks "horrific racial violence." Finally, She chided Democrats for backing President George W. Bush's efforts to mount a military response to 9/11 and concludes that the Patriot Act was "It was not bought and paid for by corporations," as some believe, but "it was bought and paid for by our fear."
Finally, Harris-Perry concludes by saying that it was Hurricane Katrina that snapped America out of its need to go after an "imagined racial enemy."
Watch Harris-Perry's talk below via :
h/t The Blaze
> >Follow Noah Rothman (@Noah_C_Rothman) on Twitter
Have a tip we should know? tips@mediaite.com