MSNBC's Andrea Mitchell Calls Wawa's Gaffe Mitt Romney's 'Grocery Scanner Moment'
Andrea Mitchell Calls Wawa's Gaffe Romney's 'Grocery Scanner Moment'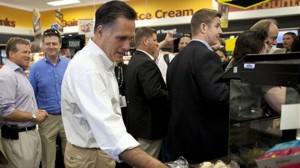 Republican presidential candidate Mitt Romney has been amusing peasants everywhere with his childlike amazement at the sandwich-ordering technology he sampled at a "Wawa's" (the chain is called "Wawa," not "Wawa's) this past weekend, but MSNBC's Andrea Mitchell thinks Romney's slip-up could become as iconic as President George H.W. Bush's purported "amazement" at a supermarket scanner, itself an exaggerated story that, nonetheless, contributed to an out-of-touch image for the 41st President.
The clip is funny, and even sort of endearing, as Romney relates to the Cornwall, PA audience by trying to settle a local convenience-store rivalry between Wawa and Sheetz (I've never been to a Sheetz, but we have Wawas in New Jersey, and they rule) by extolling the virtues of the Wawa sandwich ordering system.
"You press a little touchtone key pad," he said. "You touch this, touch this, touch this, go pay the cashier, and there's your sandwich. It's amazing!"
Romney's tendency to slum-pander has already been well-documented, but the difference here is that, unlike almost everything else he says, Romney's amazement at the sandwich screen was sincere. As for his repeated use of the name "Wawa's" (it's just "Wawa), I know there's a tendency in Great Britain to use a possessive on chains that actually aren't ("Tesco's" rather than "Tesco"), so perhaps this is some regional quirk.
I guess what I'm saying is that Romney already has a well-earned reputation as an out-of-touch rich guy, so this doesn't figure to change much in that regard, but his sincere delight at the sammy-making process is funny and humanizing.
Here's the video, from MSNBC:
(h/t Buzzfeed)
Follow Tommy Christopher (@TommyXtopher) on Twitter.
Have a tip we should know? tips@mediaite.com