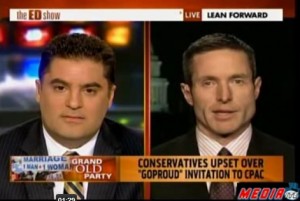 MSNBC's Cenk Uygur interviewed GOProud Chairman Christopher Barron Thursday night, and while the subject was supposed to be a boycott of CPAC by social conservatives, Uygur began with a broader question: "Why on God's green Earth are you a Republican?"
That question, and Uygur's subsequent laughter at Barron's responses, may seem uncharitable, but are they entirely unfair? While CPAC deserves some credit for standing up to the boycott, and the party has made some progress on gay rights, they're still way behind the rest of the class.

Here's the clip, from MSNBC's The Ed Show:
Now, I was at CPAC last year when the crowd there booed homophobic simpleton Ryan Sorba right off the stage, and I can attest to the fact that it wasn't just GOProud members. Everyone I talked to denounced Sorba, and I talked to a lot of people. It was a proud moment, one for which the conference's attendees deserve credit.
Additionally, CPAC has not responded to pressure from conservative groups to rescind GOProud's invitation to this year's CPAC, which also represents unmistakeable progress for the conservative movement.
On the other hand, Uygur correctly points out that the repeal of "Don't Ask, Don't Tell" was opposed by an overwhelming majority of Republicans, and he also points to a coordinated effort to get out the Republican vote in 2004 using anti-gay ballot initiatives.
What he doesn't get to, though, is the reality behind Barron's assertion that opposition to his group is all fringe WorldNetDaily types. The fact is that, aside from a few high-profile exceptions, Republicans overwhelmingly oppose marriage equality, and the current face of the party, Sarah Palin, has spoken in support of a Constitutional amendment to ban gay marriage.
Does any of this mean that a gay person should never be a Republican? The progress that GOProud has made at CPAC is a sign that the mountain is moveable, as is the meager, yet crucial, Republican support for the DADT repeal.
On the other hand, the Republican Party lags far behind the rest of the country on gay rights issues, and while that might merit them some kind of special "Most Improved" ribbon, Barron should not pretend that the mountain is moving morte than it is, or that it isn't kicking and screaming in the process.
Have a tip we should know? tips@mediaite.com