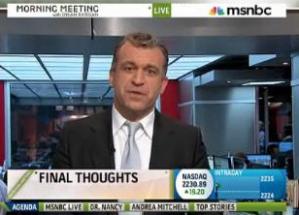 It was a contentious Morning Meeting on Friday, as MSNBC host Dylan Ratigan had it out with Democratic Rep. Debbie Wasserman Schultz about health care.
Today, at the end of the Meeting, Ratigan apologized – but also pledged to continue to air his frustration.
Ratigan began the apology by discussing what he and Rep. Wasserman Schultz agree on: "Both of us…lament that currently it appears that any bill that gets to the President's desk on health care will not have real choice or real reform for the American people."
He said what came from the interview was a display of his "incredible frustration" and he addressed a specific Twitter response directly.
DianeG12 tweeted, "Dylan was very rude!" and yes, DianeG12, I was, and I want to apologize to the congresswoman and to our viewers for that. Our mission and our mission on this show is to shine the light on what's really happening, whether it's health care, the banks or the war in the Middle East. And the way I went about that on Friday was a disservice to our viewers because it got in the way of doing just that.
But he made a promise, which he says will remain when the program moves to 4pmET: "We will continue to hold our nation's leaders accountable." This may be the last fiery argument in the soon-to-end Morning Meeting, but at 4pmET, expect the same tough interview style as well.
Here's the apology today:


—–
» Follow Steve Krakauer on Twitter
Have a tip we should know? tips@mediaite.com