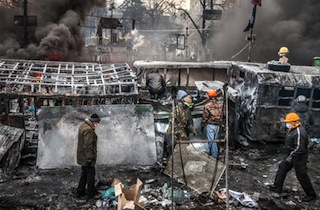 Every a.m., Mediaite publishes a primer of what the interweb machine is writing, talking, tweeting, and blogging about, so that you may fool friends and family into thinking you are a trove of information and insight. Today: the one thing everybody could agree upon—the need to send aid to Ukraine—is suddenly the one thing no one can agree upon. Plus: Russia does not care for our sanctions threats, and is Senate Minority Leader Mitch McConnell (R-KY) actually in a safe seat?

"GOP Senators Line Up Against Ukraine Aid Bill" (Josh Rogin, Daily Beast)
As of this weekend, the one thing in the Ukrainian situation every talking head could agree on was the need to prop up Ukraine's transitional government, particularly through financial (if not military) aid. However, the public opposes giving Ukraine aid because $$$, and now some GOP legislators are signaling their opposition for certain provisions of the bill:
The bill includes hundreds of millions of dollars to support reform of the International Monetary Fund—and offsets some of those funds taking money away from U.S. military accounts. Because of that, all committee Republicans, except for Corker and perhaps John McCain, are expected to vote against the bill. The fractured support will prevent the bill from being considered by the full Senate this week, delaying floor action until after the coming two week Congressional recess.
The bill passed out of the Senate Foreign Relations Committee on Wednesday, and also included sanction measures. Speaking of which:
"Russia Will Mirror Any Sanctions: Deputy Economy Minister" (Daria Korsunskaya and Lidia Kell, Reuters)
Russia is threatening to mirror any sanctions imposed on them, and warning against economic sanctions that could hurt business relations between them and the EU (one of the reasons European countries are cooler on sanctions that the U.S. is).
"McConnell Is Not as Vulnerable as He Seems" (Nate Cohn, New York Times)
On ye olde domestic front, Nate Cohn argues that McConnell, long considered a vulnerable target for both a tea party challenger and a strong Democratic candidate, is not as vulnerable as everybody thinks.
Mr. McConnell is not only an incumbent senator who represents the party opposed to the White House in a midterm election, but he also comes from a state that opposes the president. Since 1956, only seven senators in these circumstances have lost re-election. The last time was in 1998, when John Edwards defeated Senator Lauch Faircloth in North Carolina.

But 2014 is not 1998. Back then, President Bill Clinton's approval rating was in the mid-60s. Today, President Obama's ratings are mired in the low 40s. Kentucky is also not North Carolina, which only narrowly voted against Mr. Clinton. Kentucky is an extremely favorable state for a Republican candidate: It voted for Romney and McCain by an average of 25 points to the right of the country.

From that perspective, there is no precedent for a McConnell defeat.
The article is also a preview of Upshot, the new venture the New York Times hopes will fill the void left when Nate Silver departed for ESPN.
"Edward Snowden Looms over Pulitzer Prizes" (Dylan Byers, POLITICO)
Dylan Byers signals the next round in the "Snowden: Traitor or Patriot" game: do the newspapers and reporters who published his materials deserve the Pulitzer Prize?
"Honoring the NSA reporting — particularly in the coveted category of Public Service — would inevitably be perceived as a political act, with the Pulitzer committee invoking its prestige on behalf of one side in a bitter national argument. In effect, it would be a rebuttal to prominent establishment voices in both parties who say that Snowden's revelations, and the decision by journalists to publish them, were the exact opposite of a public service.

[snip] "Yet to pass on the NSA story would be to risk giving the appearance of timidity, siding with the government over the journalists who are trying to hold it accountable and ignoring the most significant disclosure of state secrets in recent memory. It would also look like a willful decision to deny the obvious: No other event has had as dramatic an impact on national and international debates over state surveillance and individual privacy."
TIME and ABC both balked at honoring Snowden with their respective person of the year awards, but the Pulitzer committee has precedent for acknowledging the NSA leaker, having awarded the New York Times for Daniel Ellsberg's publication of the Pentagon Papers in 1972.
[Image via Mykhaylo Palinchak / Shutterstock.com]
——
>> Follow Evan McMurry (@evanmcmurry) on Twitter
Have a tip we should know? tips@mediaite.com