Nick Viall is Back in Bachelor Nation for the Fourth Time, and as Expected, There's Lots to Discuss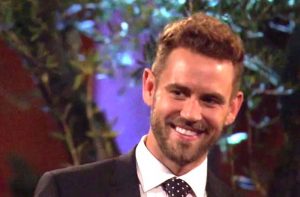 As I always say, if at first you don't succeed, go on The Bachelor three more times. Last night was the much-hyped premiere of Nick Viall's fourth attempt at love within the franchise. If you've watched the show in the past, people are very opinionated about him- he's not quite what you'd call a fan favorite. If not, no matter, because they reintroduce him and his family, and Nick tells us that he's "gonna give America a happy ending." Yep.
Then Nick gets some advice, from former Bachelor contestants Ben Higgins, Chris Soules, and Sean Lowe which was…curious. For a multitude of reasons. Nick knows the show better than all of them at this point, probably including Chris. Also, The Bachelor isn't known for fostering the most successful relationships. The Internet agreed:
Why is Chris giving advice ?#TheBachelor

— Whitney Bischoff (@whitbisch) January 3, 2017
Luckily for Nick, past bachelors are here to give him advice. Unluckily for Nick, only one went through with his engagement. #thebachelor

— Sandra Di (@Sandra_Di_) January 3, 2017
Nick really needs advice from Sean, Ben, and Chris. He's been around longer than most of them. #TheBachelor pic.twitter.com/VgKwRoZAXW

— Her Campus (@HerCampus) January 3, 2017
The entrances and descriptions of the women have gotten more outrageous, obviously. They've also stopped making sense. Alexis, whose description is "aspiring dolphin trainer" came out of the limo in a costume that looks curiously like Left Shark's.
Aspiring Dolphin Trainer walks in wearing a shark costume, so now we know why she's still aspiring #TheBachelor

— Stephanie Gates (@sgates67) January 3, 2017
The "Aspiring Dolphin Trainer" thinks sharks are dolphins. She's going to be really confused if she fulfills her aspirations. #TheBachelor

— Garrett (@GarrettRuHawk) January 3, 2017
A woman named Lacey made her entrance on a camel, because she heard he "likes a good hump." So…there was that. Additional important entrances were made by Jasmine, who showed up with Neil Lane to show Nick her ideal engagement ring, which is always a good way to introduce yourself to someone you've never met. Last but not least is Liz. Liz and Nick actually already know each other- they've slept together. Their interaction was…awkward. When Liz got out of the car, she didn't mention they knew each other. So then he didn't say anything, but you could tell he knew her. Then, Liz called him out for not knowing who she was, so Nick called her out for not pursuing him off camera. The Internet went wild and the whole did he or didn't he recognize her thing may never be solved.
Chris TOTALLY had no idea who Liz was!!!!!!!! Wow such a good actor!!!!!!!!!!!! #TheBachelor

— Olivia Caridi (@OliviaCaridi) January 3, 2017
Nick needs to 'get to the bottom of it' with Liz. But it sound like he already has. Ba-da-ching. #thebachelor 3ad

— mamrie hart (@mametown) January 3, 2017
Watching Liz the Doula and Nick talk #TheBachelor pic.twitter.com/s8CEPIEukX

— refinery29 (@Refinery29) January 3, 2017
Kinda hilarious that Nick would be mad at Liz for not contacting him…while he was busy "making connections" off in Paradise. #TheBachelor

— Kate Coyne (@KatePeople) January 3, 2017
"i kissed nick. i'm not going to tell anyone," says liz, who is definitely going to tell everyone. #TheBachelor

— Claire Fallon (@ClaireEFallon) January 3, 2017
"I didn't want you to think I'm here because you're The Bachelor."
Uh…Liz, honey? You realize where you are, right? #TheBachelor

— Kate Coyne (@KatePeople) January 3, 2017
Rachel Lindsay got the first impression rose, making her the early front runner. She's also the first African American woman to receive the first impression rose, and people were excited.
Rachel made a good first impression with me too. She carries herself really well. So far so good #TheBachelor

— LochNessa (@gwgjackrobin) January 3, 2017
Rachel getting the first impression rose gives me hope for 2017. #thebachelor

— Alexandra (@alexxxcoulter) January 3, 2017
first impression rose goes to rachel! #TheBachelor pic.twitter.com/n00jNAQBD1

— Claire Fallon (@ClaireEFallon) January 3, 2017
NICK HAS GIVEN RACHEL A 31 EYAR OLD BLACK LAWYER THE FIRST IMPRESSION ROSE AND I AM LOSING MY FUCKING SHIT omgggg ? #TheBachelor

— Rachel W. Miller (@the_rewm) January 3, 2017
During the rose ceremony he sent home: Olivia, Angela, Lauren, Briana, Ida Marie, Jasmine B., Michelle and Susannah…we hardly knew ye.
Until next time!
Have a tip we should know? tips@mediaite.com