Singer Says She'll Do Inauguration… If She Can Sing Protest Anthem About Lynching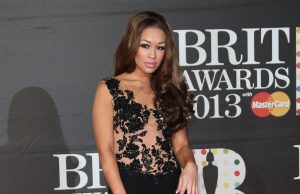 Rebecca Ferguson was the runner-up on the seventh season of the UK's X Factor, meaning she got the second-highest amount of votes from the public. She has something else in common with Donald Trump, too: She might be in the same place on January 20!
According to the singer, she was asked to perform at the President-elect's inauguration. She said she would agree to the performance if she could perform Billie Holiday's "Strange Fruit." Holiday adapted the Abel Meeropol poem into a song that has become one of the most recognized protest anthems. Here is how "Strange Fruit" goes:
Southern trees bear strange fruit
Blood on the leaves and blood at the root
Black bodies swinging in the southern breeze
Strange fruit hanging from the poplar trees

Pastoral scene of the gallant south
The bulging eyes and the twisted mouth
Scent of magnolias, sweet and fresh
Then the sudden smell of burning flesh

Here is fruit for the crows to pluck
For the rain to gather, for the wind to suck
For the sun to rot, for the trees to drop
Here is a strange and bitter crop
Given that people of color voted for the President-elect in lower numbers than white people did and the entire campaign season left marginalized communities and minorities feeling unsafe as hate crimes have increased and racist rhetoric has gone more mainstream, the request is symbolic.
Here is what she said: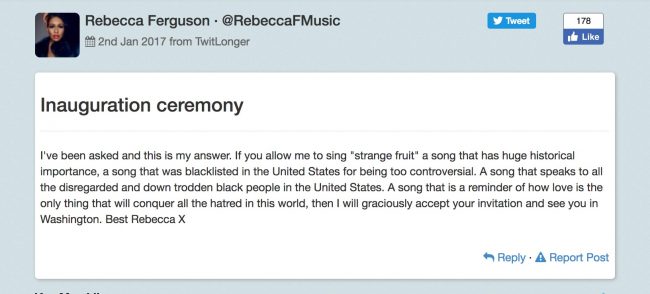 Whether the transition team will accept what looks like a counter offer from Ferguson remains to be seen but thus far, it's been extremely hard for them to find entertainers willing to perform at the inauguration. The Mormon Tabernacle Choir agreed only to have at least one member quit. The Rockettes created a media firestorm when it was revealed that many of them were devastated to be performing for Trump against their will. That the campaign has allegedly reached out to a British singer is noteworthy.
[image: Featureflash Photo Agency / Shutterstock.com]
Have a tip we should know? tips@mediaite.com