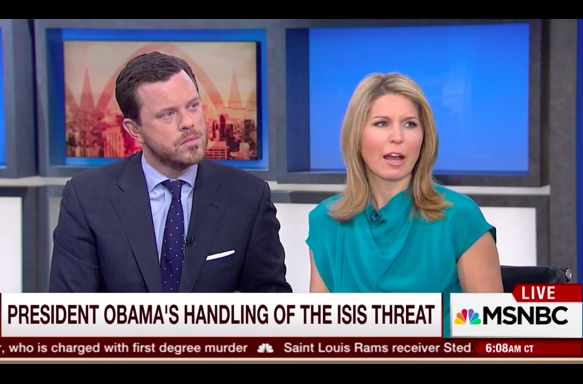 As the conversation on Wednesday's Morning Joe turned to President Barack Obama's response in the wake of the French terror attacks, Nicolle Wallace took a particularly hard tone with the President's supposed passivity.
Wallace, who served as the White House Communications Director under former President George W. Bush, responded to a Washington Post poll revealing that 57% of Americans disapprove of the President's handling of ISIS. She said firmly of Obama:
He's a father. I don't understand why he can't look into the camera and say, 'If you've got kids traveling home for the holidays, I understand you might be afraid to put them on an airplane. You don't have to be and here's why.' I don't understand why he can't tap into his own humanity! He musters more of it about saving the planet than he does talking about keeping kids safe around this time of year when people are traveling.
Co-host Joe Scarborough sharply cited the, "President's fantasy world"; Mika Brzezinski noted the disconnect between the President's rhetoric and the American people on this issue, saying, "If you look at his words… they're strong. But there's something missing."
Wallace — who at one point criticizes the President by simply declaring, "He's been a jerk," — identified the fears surrounding the holiday season and any threat posed from ISIS. She continued, "People are scared. And that's not a partisan issue. He has been incapable for a nanosecond since the Paris attacks when speaking to the country as a human being about the fact that they're scared."
"People don't understand the refugee program, people don't understand how exhaustive the vetting is. And he blamed anyone who is afraid — he called them cowards, he said 'You're afraid of orphans and women!'," she concluded.
Watch the above clip from MSNBC.
[image via screengrab]
—
>> Follow J.D. Durkin on Twitter (@MediaiteJD)
Have a tip we should know? tips@mediaite.com