'Obama Supports Terrorism': Egyptian Protests 'Anti-Obama' As Well As Anti-Morsi, CNN Reports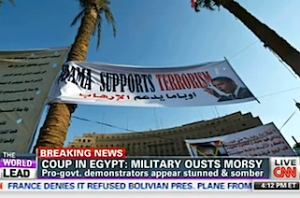 Many Americans have been cheering Egyptians along in their celebrations over the ouster of Muslim Brotherhood head Muhammed Morsi Wednesday afternoon, but as CNN reminded viewers, the protesters have also been aiming their opposition towards President Obama.
Noting that he's seen images of signs claiming Obama "allied himself with terrorists, with the Muslim Brotherhood, with a fascist regime" anchor Jake Tapper asked Cairo-based CNN International correspondent Reza Sayah how prevalent the anti-American and "anti-Obama" imagery has been during these latest rounds of protests.
"It's no secret that U.S. foreign policy is unpopular in, not just here in Egypt, but throughout the Arab world," Sayah reported. "Egyptians love Americans, but they don't love U.S. foreign policy. Remember, they will never forget that for decades, it was Washington that supported the dictator Hosni Mubarak and his brutal police state."
Sayah added that the leaders of the opposition movement put out a "harsh" statement warning Washington to "stay out of Egypt's affairs" and accusing the U.S. of "trying to impose its will on Egypt for the interest of Israel."
"It's a glimpse of how complicated Washington has it," he concluded, "when it comes to Egypt and this region."
Watch video below, via CNN:
Photos of protest signs that attack Obama and U.S. Ambassador to Egypt Anne Patterson have been appearing on Twitter over the last several days. You can view a sampling of those below.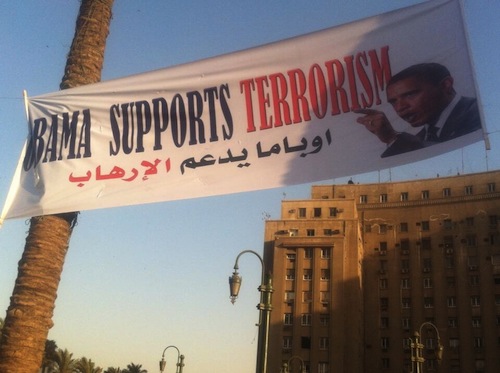 (via @betsy_hiel)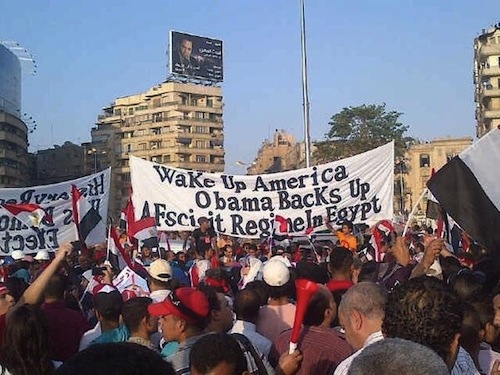 (via @Mona_ElAshry)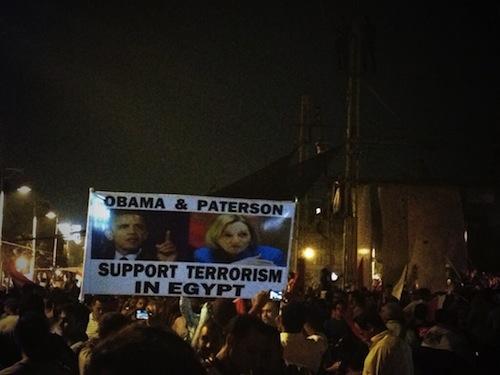 (via @TheBigPharaoh)
—
>> Follow Matt Wilstein (@TheMattWilstein) on Twitter
Have a tip we should know? tips@mediaite.com