Obamacare 'Navigator' Fired Over Undercover Video Showing Her Encouraging Applicants to 'Lie'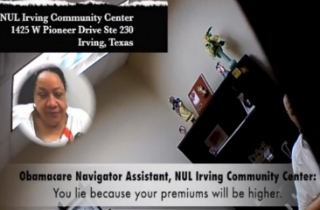 Earlier this week, undercover video emerged from conservative activist James O'Keefe's Project Veritas, seemingly showing Obamacare "navigators" in Dallas, Texas, advising a man to lie on his healthcare exchange application in order to receive more subsidies and a lower healthcare premium.
One of O'Keefe's undercover "investigators" went into the National Urban League's Dallas office and told so-called Obamacare "navigators" that he does not typically report his outside income when filing taxes. The video shows the navigators suggesting he not generate any "trouble" by reporting that income to the Internal Revenue Service at this point.
"Don't get yourself in trouble by declaring it now," said a woman identified as "Mrs. Dorothy." Another navigator, named "Lakisha Williams," adds: "Yeah, it didn't happen."
At another point in the edited video, a navigator at the National Urban League's Irving Community Center tells the undercover man to avoid reporting himself as a "smoker," so as to receive a lower healthcare premium. "You lie because your premiums will be higher," the navigator's assistant added.
"I always lie on mine," she later said.
As always, it should be noted that the Project Veritas video is heavily edited and so viewers do not get a full glimpse of the tactics used in order to obtain such responses.
In response to the footage, the Urban League has fired one of the navigators in the video and suspended the certifications of three others. Fox DC reports:
The Urban League said in a statement on Tuesday it "does not condone, nor would we ever sanction, misleading the public or any individual who seeks our assistance about any issue, and particularly in this case, an issue as critical as health care."

The Urban League said the person fired was a "part-time receptionist trainee" who was not authorized to speak on behalf of The Urban League or act as a Navigator and said it supports decertifying three "Navigators-in-training" in the video.
The Urban League has also called on Project Veritas to release the full, unedited video for them to see the "full context" of the comments made in the video.
Watch the video in question below, via Project Veritas:

[h/t TheBlaze]
— —
>> Follow Andrew Kirell (@AndrewKirell) on Twitter
Have a tip we should know? tips@mediaite.com