Ohio Teacher Sues School District For Discrimination, Cites 'Fear Of Children' As Cause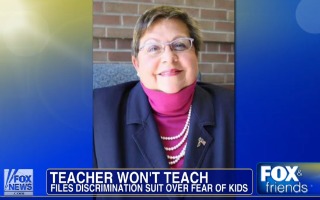 An Ohio teacher is suing the Mariemont school district for reassigning her from high school to junior high. The problem? Maria C. Waltherr-Willard claims she suffered discrimination because she has a phobia of young children.
The Cincinnati Enquirer first reported that Waltherr-Willard said she suffered from pedaphobia – a rare disease which causes extreme fear or anxiety around young children. According to the local paper, she has worked in the school district for 35 years and says she has suffered from the condition since 1990.
Waltherr-Willard had previously been a French teacher at the high school and said she has experienced stress, anxiety, chest pains, vomiting, nightmares and high blood pressure since being around young children.
A federal judge dismissed three claims in her lawsuit last week, but three more claims remain. The teacher alleged the school district violated an "implied contract" to keep her away from young students. She also alleged that the district forced her to resign because of her age.
The school district said they "did not expect" Waltherr-Willard to resign and that she was replaced by teachers around the same age.
The crew at Fox & Friends took on the issue and host Alisyn Camerota noted pedaphobia is "a real phobia" and is characterized by "terror, dread, rapid heartbeat, shortness of breath, nausea, dry mouth and anxiety." The co-hosts and viewers who wrote in made fun of the story, with both Tucker Carlson and several guests saying the teacher should "get over it."
Watch the clip below, via Fox News:

—
>>
Follow Anjali Sareen (@AnjaliSareen) On Twitter
Have a tip we should know? [email protected]
---